This butter and lemon flavored white rice recipe will up your rice-making game! It takes minutes to prep and cooks up perfectly every time!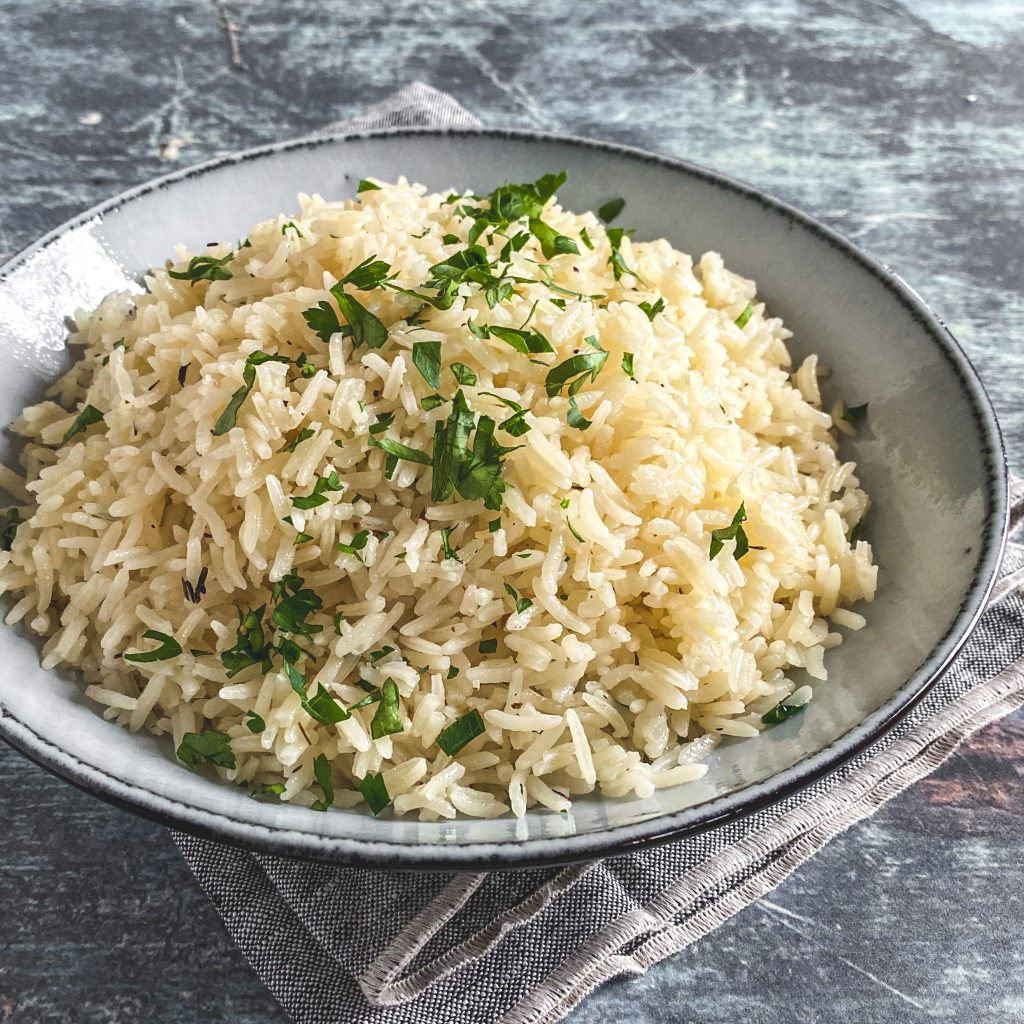 Perfectly cooked rice is something that a lot of people struggle with. If you're one of them, this butter and lemon flavored white rice recipe is for you!
I've developed a lot of recipes over the years, but this is one I am incredibly proud of. I've shared it on my Instagram stories many times. Hundreds of people have made it and have had nothing but positive feedback!
Rice seems like it should be so simple, right? What's so hard about adding a cup of rice plus two cups of water to a pot and cooking itfor 20 minutes? It sounds easy enough, but there's more to it. Cooking rice isn't a one-size-fits-all thing. There are several different varieties of rice, and they each require different cooking times and techniques.
What kind of rice should I use?
Do I have to rinse my rice?
How much water am I supposed to add?
Do I add butter or oil fat?
How long do I cook it?
To add to the confusion, much of the information you find online is contradicting. After testing several different ways to make rice, I landed on my perfect oven-baked rice. That's right. It cooks in the OVEN, and it comes out perfect every time!
Foolproof butter & lemon flavored white rice recipe:

Ingredients used in this recipe:
Long grain white rice: This is a must, and I don't rinse it. IMO, rinsing the rice messes up the ratio of water to rice. I've tested this several times, and not rinsing the rice yields better results. If you're worried about pesticides, buy a good quality organic brand.
Broth or water: I suggest low-sodium chicken or vegetable broth for extra flavor.
Olive oil: Cooks into the rice for added flavor and helps keep the rice grains from sticking together.
Butter: Stirred in at the end for a big pop of buttery flavor.
Lemon: For a big burst of lemon flavor and freshness.
Sea salt: Salt brings out flavor and makes food better.
Black pepper: Because a little goes in almost every savory dish.
Fresh herbs: My go-to in this dish is Italian parsley.
How to make this simple white rice recipe:
Preheat the oven to 350°F.
Bring the broth, seasonings, and olive oil to a simmer.
Prepare a baking dish, and spread the rice in an even layer.
Pour the broth over the rice.
Tightly cover and bake.
When the rice is done, add the lemon and butter, and fluff with a large fork.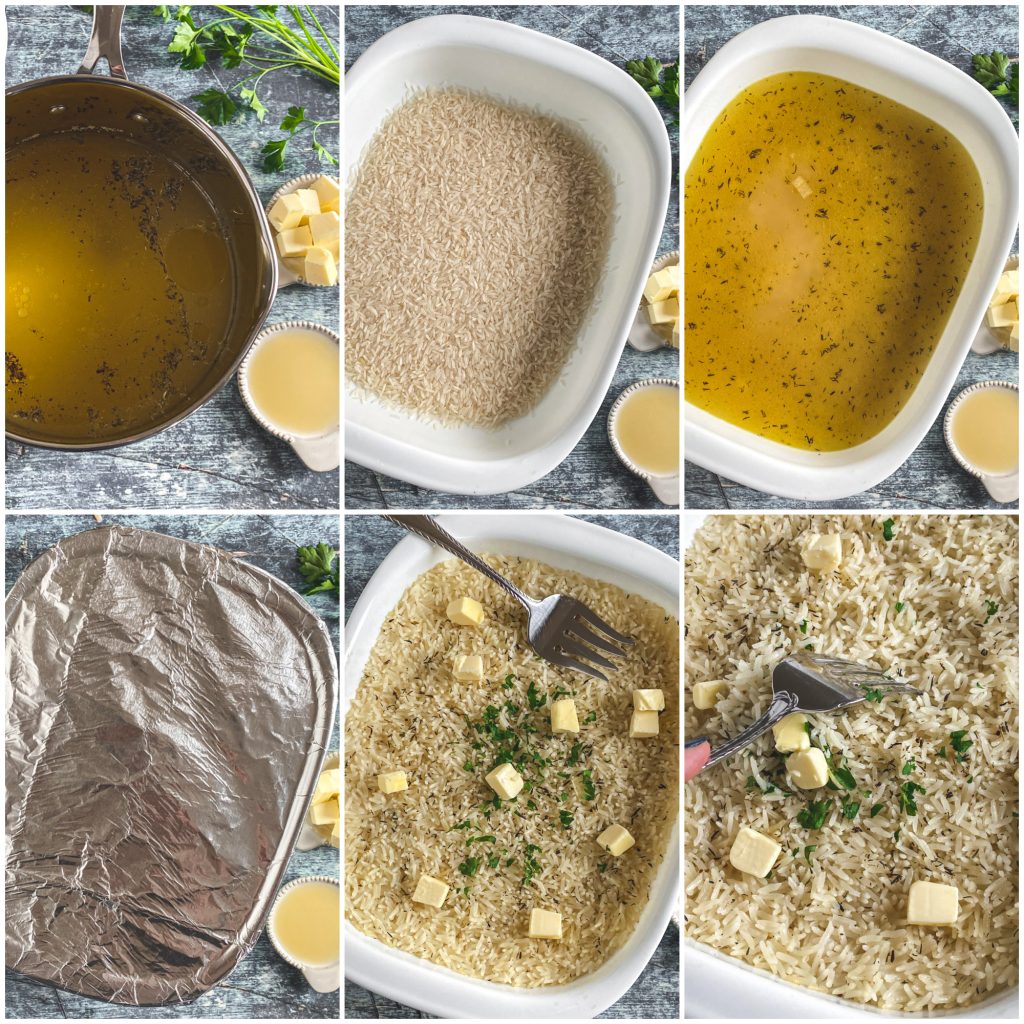 Recipe tips and variations:
One of the things I love about this recipe is how versatile it is. Change the broth, herbs, and seasonings to make it your own! My go-to is butter and lemon, but the variations are endless. If we're having tacos, I add southwest seasonings and swap lime and cilantro for butter and lemon. For an Italian spin, try butter, parmesan, and fresh basil. If you're going for Asian vibes, soy sauce, lemon, and a touch of sesame oil is delish. Once you've got the technique down pat, you can change the flavors however you want!
I highly recommend using low-sodium or salt-free broth (or water). Some brands are SOOO salty and can ruin the whole dish.
When incorporating the lemon and butter into the rice, it is crucial to use a light touch, never pressing down. Use a raking motion, occasionally (and gently) scooping from the bottom to the top. The goal is fluffy rice with perfectly separated grains.
Storage: Surprisingly, rice does not keep as long as most people think. If you can't eat it within three days, freeze it. It freezes beautifully and reheats quickly!
Equipment used in this recipe:
Baking dish: This is the one shown in this post – it's a perfect size!
Aluminum foil: It works great for getting a good, tight seal.
Small pot: This one is the perfect size for this recipe and so many other things.
Large fork: A large serving fork works best for fluffing and separating the rice.
Serving dish: Optional but I love pretty serving platters!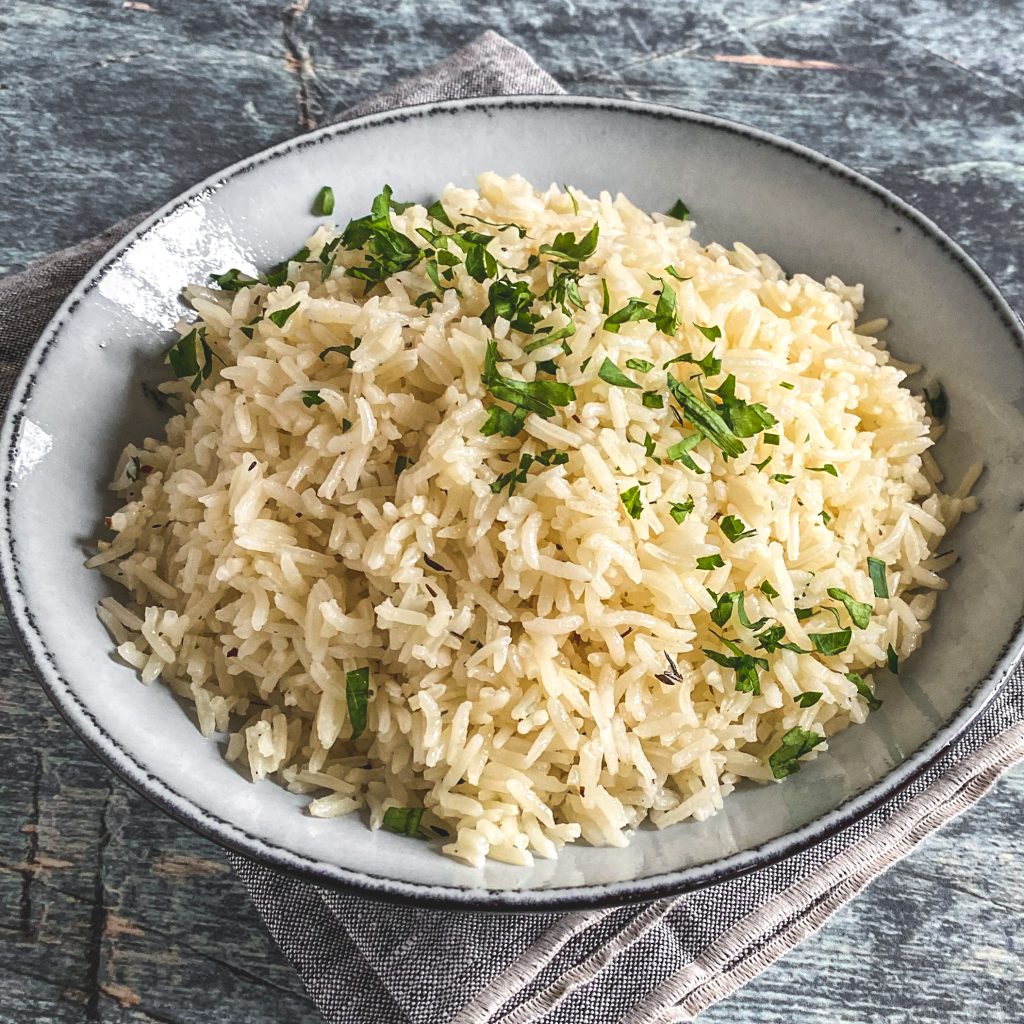 Serve this with:
Did you try this recipe?
Leave us a comment or rating below!
Tag and hashtag us on Instagram @nashvillemade #nashvillemadefood
Sign up here to receive our weekly roundup in your inbox.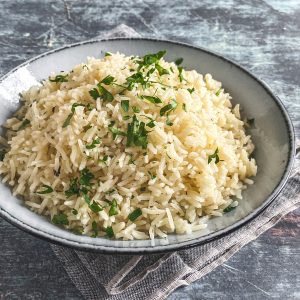 Foolproof Butter & Lemon Flavored White Rice Recipe
This butter and lemon flavored white rice recipe will up your rice-making game! It takes minutes to prep and cooks up perfectly every time!
Print This Recipe
Pin This to Pinterest
Ingredients
2

cups

long grain white rice

3 1/2

cups

low-sodium chicken or vegetable stock

1/4

cup

olive oil

1/2

teaspoon

sea salt

1/4

teaspoon

black pepper

2 - 3

tablespoons

unsalted butter

1 - 2

tablespoons

fresh lemon juice
Instructions
Preheat the oven to 350°F.

Add the water, olive oil, and seasonings to a small pot. Bring to a boil.

Spray a casserole dish with nonstick cooking spray and add the rice.

Pour the boiling liquid over the rice, and quickly spread it around evenly with a fork.

Cover tightly with aluminum foil, and place in the oven on the center rack.

Bake for exactly 30 minutes, remove from the oven, and immediately remove the foil.

Cut the butter into chunks and drop it all over the top of the rice

Add one tablespoon of the lemon juice, and use a fork to gently incorporate the butter. Be careful to not compact the rice. Use a light touch. See note above.

Add another tablespoon of lemon juice, and continue raking and fluffing the rice.
Notes
Store leftovers in the refrigerator for up to three days or freeze flat in freezer bags for quick meals later on.
Save this Post to Pinterest