I'm going to show you how to make sausage balls that are a total game-changer. Say goodbye to dry balls of flour and sausage, and say hello to tender, delicious balls of goodness!
I've never been a fan of southern sausage balls. You know, the recipe with Bisquick, cheddar cheese, and sausage. They are so dry. Like, I need a drink of water after every bite dry. But, for some reason, I want to like them and have been thinking about this recipe for months.
I knew I needed sausage, and I knew I wanted to use Italian sausage, but that's all I had. Sometimes, I sit down to create a recipe and get nothing. When that happens, I walk away. You can't rush it. I knew the idea would come, and it did – while I was staring at a half-full container of ricotta cheese.
Ricotta is a magical ingredient, full-fat ricotta that is. The flavor is fresh and clean, so it doesn't compete, and the fat adds moisture and richness to any recipe. It's my secret ingredient in pancakes, meatloaf, and so many other things.
After testing this recipe several times, I knew I had landed on a winner – thanks to good 'ole ricotta cheese! Almond flour keeps these gluten-free and low carb. Combined with a few other ingredients, you can have a batch of these whipped up in about 15 minutes.
We don't follow a strict keto diet, but we do eat mostly low carb. I don't jump on diet trends, and I have a lot of feelings about keto that I'll keep to myself – ha! That said, I lost a LOT of weight 20+ years ago and have eaten a mostly low-carb diet ever since. That said, I don't deprive myself. If I want pasta, I eat pasta. All things in moderation. It's what works for me and makes me feel good, and isn't that what the goal should be?
How to make sausage balls with ricotta:
Preheat the oven.
Line a baking sheet with parchment paper. I ♥ these sheets of parchment paper!
Add all of the ingredients except the sausage and mix.
Add the sausage and mix until just combined.
Use a cookie scoop to form little balls.
Place on the prepared baking sheet and bake.
When you roll them, try not to compact the meat. Here's a close up of what they should look like. See the little cracks in the meat? That's ok. Put a scoop of the meat mixture in the palm of your hand, and gently roll the meat until it's formed a ball – without compacting too much. This helps them stay light and tender 😉
Into the oven until golden brown…
We like these with warm marinara, but they're equally delicious with sour cream. I know that doesn't go with the Italian theme, but it just works. Trust me.
These are perfect as a light meal with a salad, parties, and snacks, but we LOVE eating them for breakfast, especially on days we are short on time. It's easy to get stuck in the scrambled-egg-rut, so these were a delicious way to change things up. Shannon likes them right out of the fridge, but I'll put a few on a plate and microwave them for about 30 seconds – just to get the chill off.
Why we love them:
They take mere minutes to make.
They're high in protein, making them filling and satisfying.
You can make them in advance.
The recipe is easily doubled or tripled.
Required minimal ingredients.
Speaking of ingredients, they're clean and straightforward.
They're gluten-free, low carb, and keto.
Perfect for meal prep!

Tips for making sausage balls:
The sausage mixture can be made the day before.
Use full-fat ricotta. It matters.
Do not compact the meat. Use gentle hands when mixing and rolling.
Store leftovers in the refrigerator for up to 3 days.
These are gluten-free and low carb 😉
I can't wait for you guys to make these, and you don't have to eat low-carb or gluten-free to appreciate them. They're simply the best! The end 😉


Serve this with:
Did you try this recipe?
Leave us a comment or rating below!
Tag and hashtag us on Instagram @nashvillemade #nashvillemadefood
Sign up here to receive our weekly roundup in your inbox.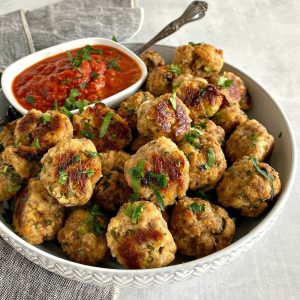 Ingredients
1

pound

Italian sausage

1

cup

full-fat ricotta

1/2

cup

Parmesan cheese

1

cup

Almond flour

2

tsp

baking powder

1/2

tsp

black pepper

1/4

tsp

salt

1/4

cup

Fresh Italian parsley

chopped
Instructions
Preheat the oven to 400 degrees F

Line a baking sheet with parchment paper and set aside.

Add all of the ingredients except the sausage to a large bowl.

Mix until thoroughly combined.

Add the sausage and mix until just combined.

Use a cookie scoop to form little balls.

Place each one onto the prepared baking sheet.

Bake for approximately 20 minutes or until the internal temperature reads 165 degrees F on a meat thermometer.
Notes
Serve immediately with warm marinara for dipping and extra parsley sprinkled on top! Pesto would be good too - or both!
Notes:
This made 26 one and a half-inch balls. This will vary depending on the size of your cookie scoop.