Tangy Tomato Dressing is slightly sweet, smoky, tangy, and addictive. You'll want to drizzle it on everything, not just salads!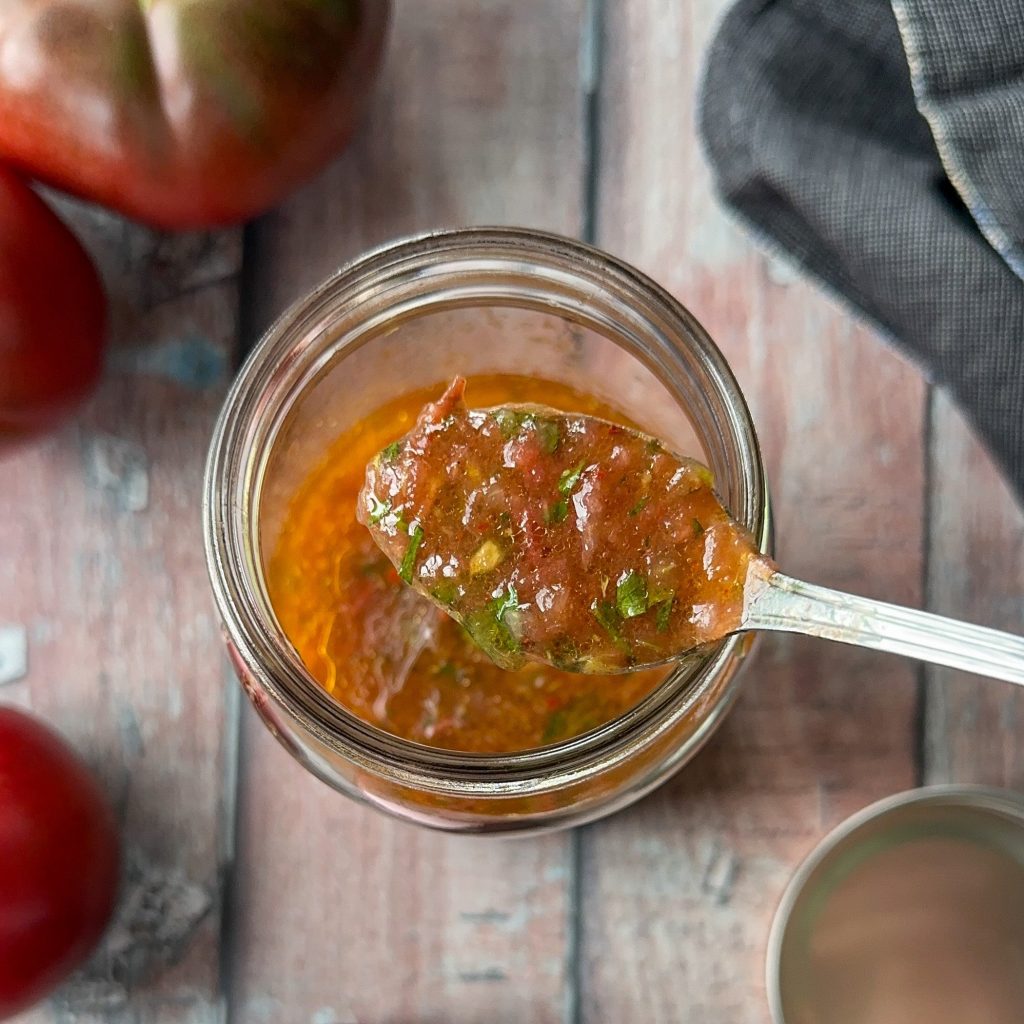 Tomato season is here, and I'll be gorging on their ripe, juicy goodness for the foreseeable future. With the exception of a good old-fashioned tomato sandwich, this Tangy Tomato Dressing is my new favorite way to use them!
I had the idea for a tomato dressing after seeing videos of pan con tomate, which translates to "bread with tomato." It's a Spanish dish of grated tomato on toasted bread with good olive oil drizzled over the top and a little salt. It's absolute perfection! However, by adding some vinegar and a few other ingredients, a simple bowl of grated tomatoes quickly became our new favorite salad dressing!
There are many benefits to making your own salad dressings. Most store-bought options contain unhealthy or unwanted ingredients, and I've never found one I love. When you make your own, you're in control of what goes in it and can add as much or as little of each ingredient as you like. Most homemade salad dressings can be whipped up in less than 10 minutes with the pantry ingredients you already have.
Tangy Tomato Dressing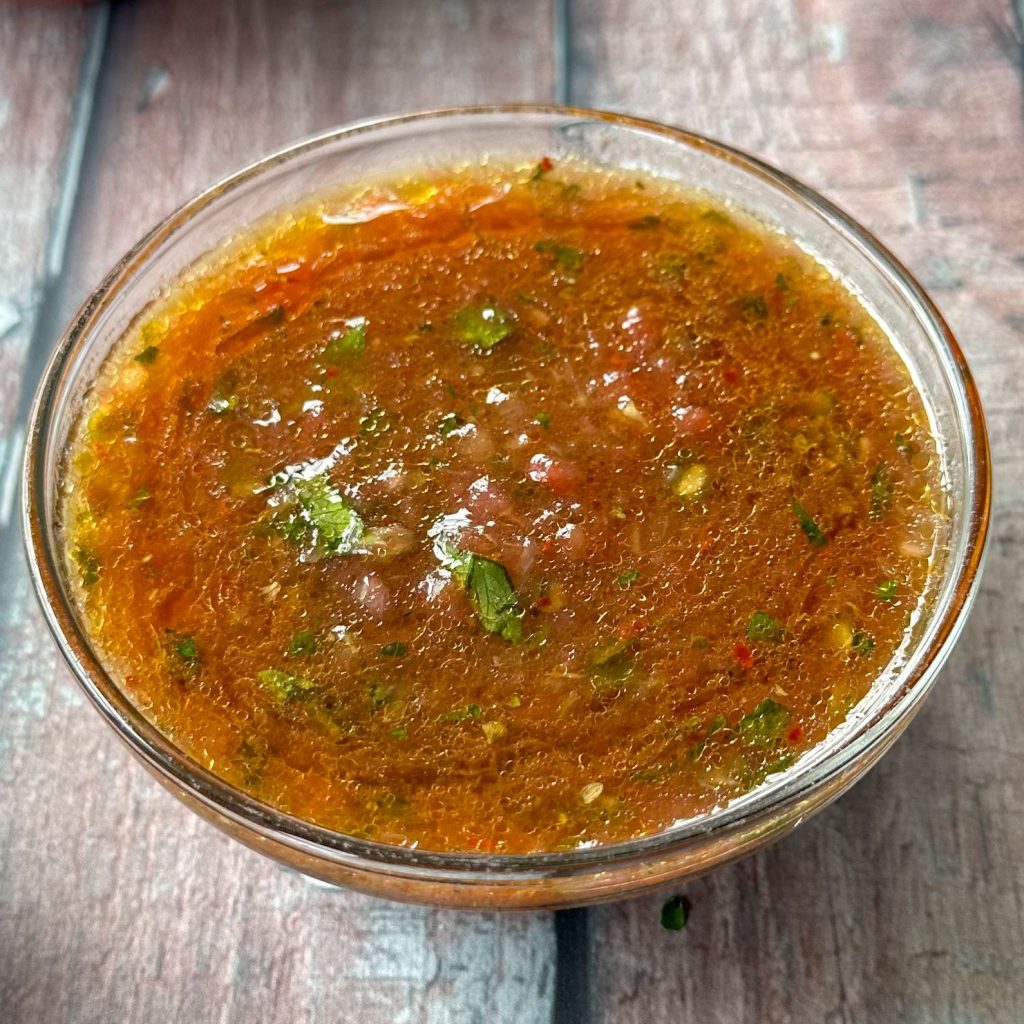 What Makes This Special?
It tastes like summer in a bowl!
10 minutes to prep + minimal ingredients.
Drizzle over greens, grilled protein, or use in pasta salads.
Easily customized with your favorite herbs and seasonings.
It's dairy-free, gluten-free, low-carb, and vegetarian.
Ingredients in Tomato Dressing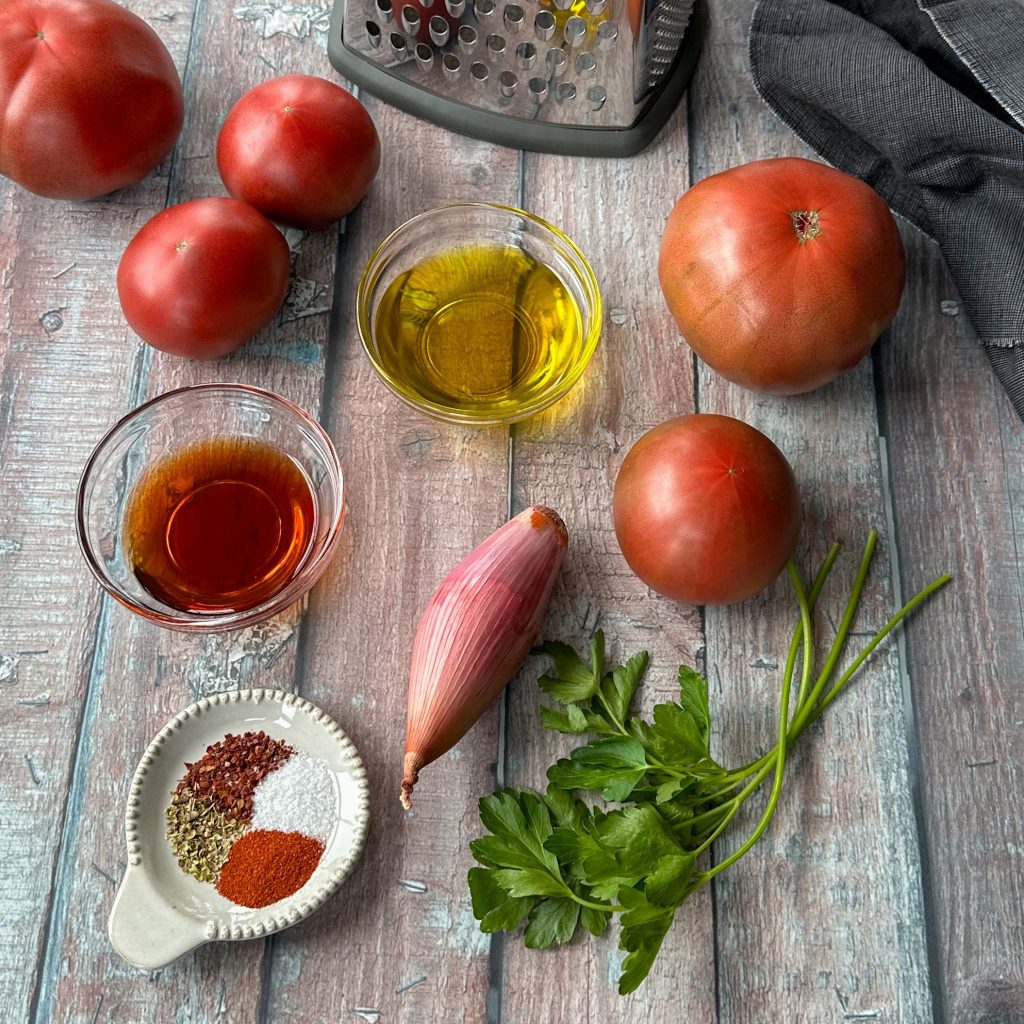 Because this recipe is so simple, using high-quality ingredients, the juiciest, ripest summer tomatoes, and good olive oil is important.
Tomatoes: They're the star of this tomato salad dressing, and we want their flavor to shine. Homegrown tomatoes have a completely different flavor than mass-produced options at the grocery store. If you cannot access locally grown, choose the freshest, ripest tomatoes you can find.
Red wine vinegar. A little acid helps to brighten up the flavors. Red wine vinegar is my go-to, but white wine vinegar would work well too. It's a matter of preference, and I grew up with red wine vinegar. My Italian mother would set it out with almost every meal. It was our "table vinegar," and it's what I use the most in my kitchen.
Extra-virgin olive oil. Use good olive oil and not cooking olive oil. I also recommend tasting the olive oil on its own, as no two brands and varieties taste the same. In this recipe, I used Trader Joe's Sicilian Selezione Extra Virgin Olive Oil, which has a peppery bite, so I didn't add black pepper. Instead, I used Aleppo pepper, which is mild, tangy, and floral, perfect for the delicate flavors in this dressing.
Seasonings. The tiniest amount of Aleppo pepper, oregano, and smoked paprika adds depth of flavor and complexity to the dressing.
Fresh parsley. It gives the dressing a fresh, herbaceous kick. Feel free to use basil instead!
Best Type of Tomatoes
For this recipe, I used Cherokee purple, which have a slightly sweet and smoky flavor. The type of tomato you choose will affect the flavor of the dressing. Heirloom tomatoes are the most flavorful, and summer is the best time to take advantage of their juicy, sun-ripened goodness!
Beefsteak tomatoes would work well because they are big, juicy, and have thick flesh.
Brandywines are sweeter and have an intense homegrown taste when allowed to ripen fully.
Plum tomatoes have more meat and fewer seeds but a thin skin, so be careful when grating them.
Carolina Gold Tomatoes would give you a gorgeous dressing, both in color and flavor. They are sweet and low in acid.
Cherokee purple tomatoes have a slightly sweet and smoky flavor, so I added smoked paprika to bring out the smokiness and a little oregano for an earthy, floral flavor. You can leave out the smoked paprika in this dressing, and it will be just as delicious!
How to Make Tangy Tomato Vinaigrette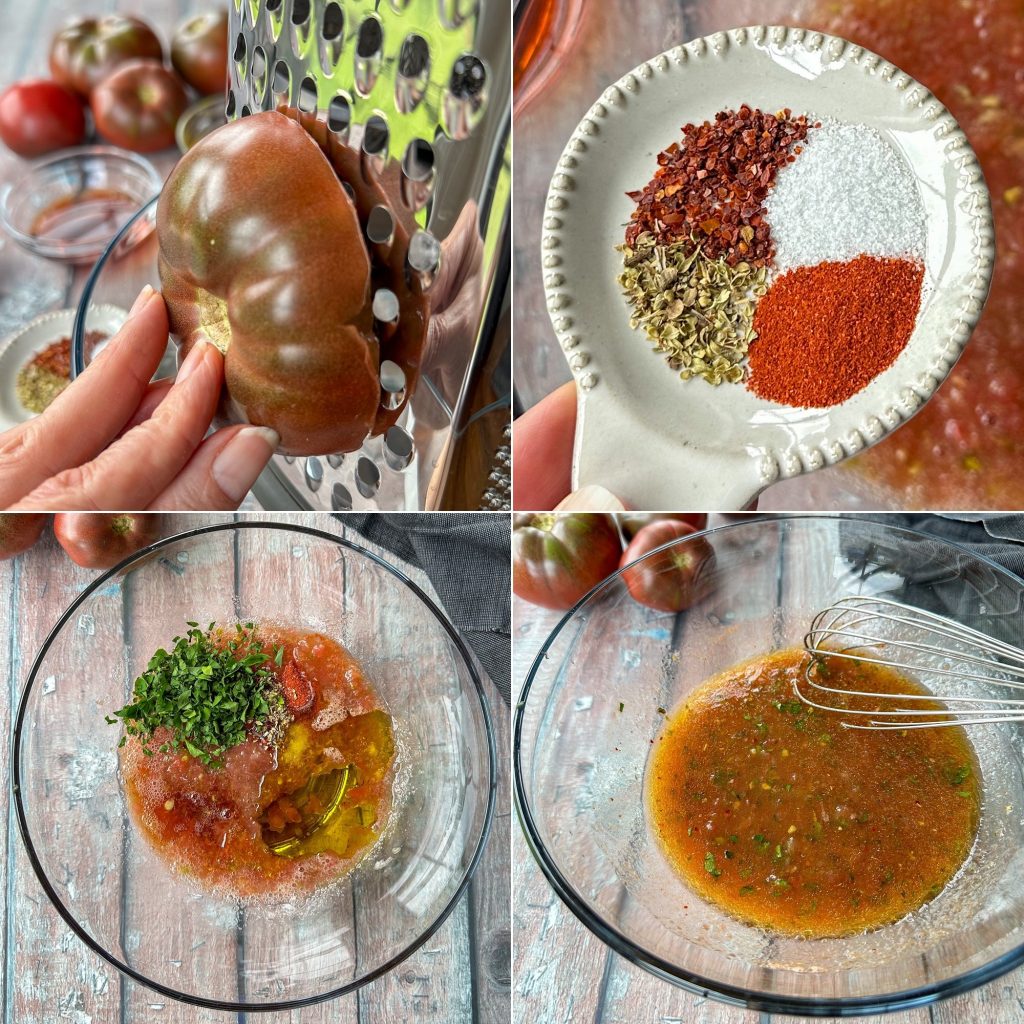 The beauty of this dressing (other than its deliciousness) is that you have it ready to go in about ten minutes!
Place a box grater inside a large bowl.
Grate the shallow on the small side. You want it like shallow mash.
On the larger side, grate your tomatoes. Grate down to the skin. Discard the skins.
Add the seasonings, olive oil, vinegar, and parsley. Whisk well.
Taste and adjust the seasoning.
You can devour this immediately, but letting it hang out at room temperature for 15 minutes allows the flavors to develop.
When grating the tomatoes, use a flat hand and gently press the inside flesh against the grater. I highly recommend a box grater for this. Once you've set it down inside the bowl, the sturdy base will keep it in place so you can hold the top of it with one hand and grate the tomato with the other. I used this one, which has a rubber base, making it very stable!
Serving Suggestions
This tangy tomato dressing is bursting with flavors and is delicious on everything from greens to seafood!
Drizzle it over delicate greens with thick parmesan shavings for a simple, summery salad.
Serve it over grilled fish, shrimp, or chicken.
Spoon it in the bottom of a plate with seared scallops on top for a beautiful presentation.
It also livens up roasted vegetables, omelets, or frittatas.
You could also use this as the sauce for a fresh pasta salad, Panzanella salad (Italian bread salad).
Products + Equipment Used in This Recipe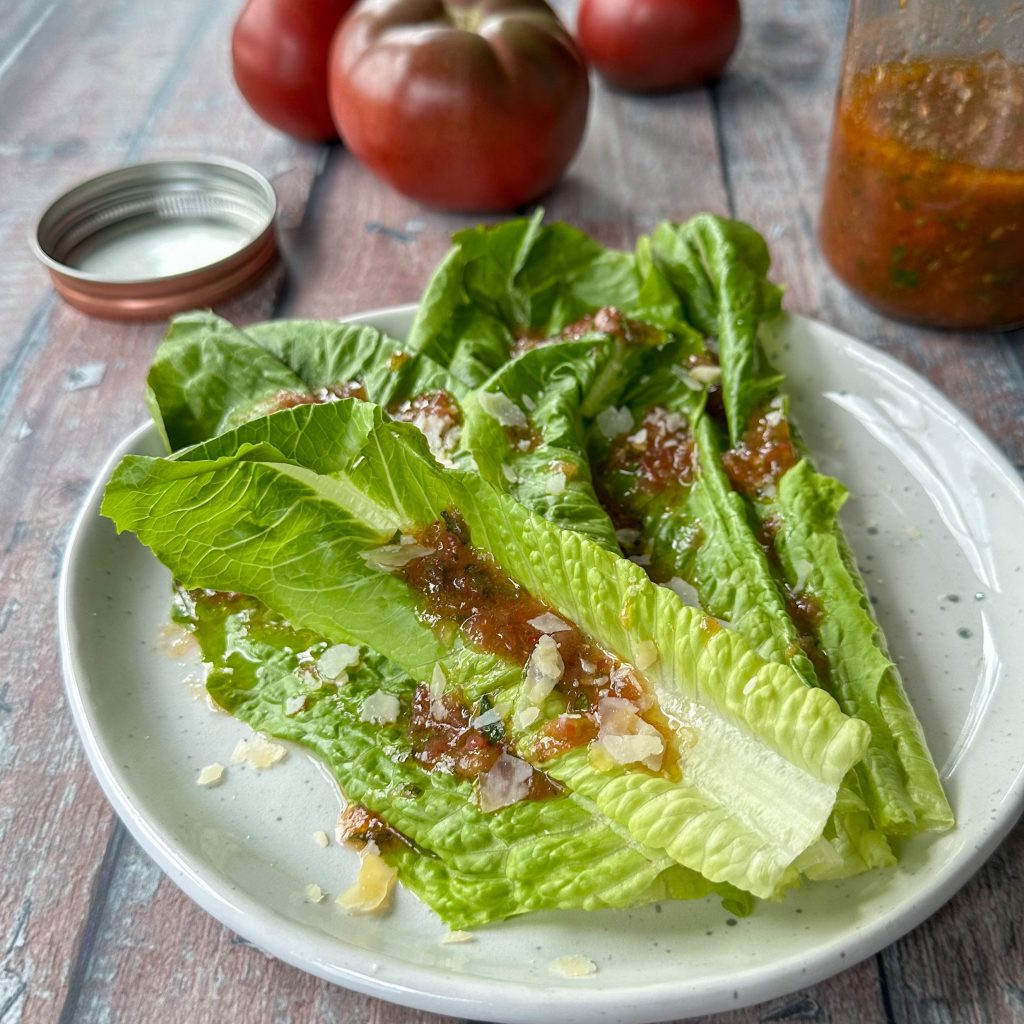 Helpful Tips + Variations + Storage
This is best enjoyed the day it's made but can be refrigerated for up to two days.
Add vinegar a little at a time. It's easier to add more than it is to fix it once you've added too much.
The tomatoes I used were very sweet. If yours are acidic, add a pinch of sugar to balance it out.
Salt wakes up the flavor in almost any dish! Before you add more sugar or vinegar, add a pinch of salt.
What to do if you add too much of something? Add more grated tomato, taste, and adjust!
If you don't have red wine vinegar, my next choice would be white vinegar.
If you don't have olive oil, use a neutral oil like avocado or grapeseed.
A good box grater is a kitchen essential and the perfect tool for grating tomatoes. I used this one for this recipe.
Serve This With
Please let me know if you try this recipe by leaving a comment and star rating below, and be sure to follow me over on Instagram @nashvillemade for a peek into my daily life and recipe tutorials! Sign up for my weekly email for a roundup of the latest recipes! Thanks so much for being here, friends!
If you have food sensitivities or follow a special diet, check out our dairy-free, gluten-free, low-carb, and vegetarian recipes!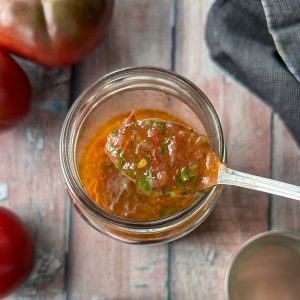 Tangy Tomato Dressing
Plain Everything Recipe Index
Tangy Tomato Dressing is slightly sweet, smoky, tangy, and addictive. You'll want to drizzle it on everything, not just salads!
Ingredients
1

large, ripe tomato

1

small shallot

2

tablespoons

chopped Italian parsley

2

tablespoons

red wine vinegar

1/4

cup

extra virgin olive oil

1/4

teaspoon

sea salt

1/8

teaspoon

Aleppo pepper

1/8

teaspoon

dried oregano

1/8

teaspoon

smoked paprika

pinch of sugar, optional (see notes)
Instructions
Place a box grater inside a big bowl.

Grate the shallot on the smallest side of the grater.

Slice the tomato in half horizontally.

Grate each tomato half on the larger side of the grater.

Grate down to the skin, and discard the skins.

Add all of the other ingredients.

Whisk well to combine and taste. Adjust the acid, sweetness, and salt. ** see notes
Notes
This is best eaten fresh but can be refrigerated for up to 2 days.
If your tomatoes are acidic, you may need a pinch of sugar to balance that out. If they're already sweet like mine were, you may not need to add any sweetener.
Adjust the acid, salt, and seasonings to your taste, but only add a pinch at a time. You can always add more, but it's more difficult to fix once you've added too much.
Serve with greens, drizzled over grilled fish, chicken, or veggies, or sop it up with crusty bread and enjoy!