A healthier recipe for McDonald's Big Mac recipe that you can enjoy at home anytime you want – and that includes the sauce!!
My McDonald's Big Mac recipe is easy, healthy, and perfect for any Bic mac lover – like my husband. The secret is in the sauce, and I think this recipe just about nails it!
Speaking of the sauce, the original McDonald's recipe is a long list of scary ingredients. In fact, it's listed right on their website.
Ingredients: Soybean Oil, Sweet Relish (Diced Pickles, Sugar, High Fructose Corn Syrup, Distilled Vinegar, Salt, Corn Syrup, Xanthan Gum, Calcium Chloride, Spice Extractives), Water, Egg Yolks, Distilled Vinegar, Spices, Onion Powder, Salt, Propylene Glycol Alginate, Garlic Powder, Vegetable Protein (Hydrolyzed Corn, Soy and Wheat), Sugar, Caramel Color, Turmeric, Extractives of Paprika, Soy Lecithin.
Yikes.
Not only does my version taste spot on like the original, I think it's even better. When you use real ingredients with real flavors, there is no need for all the artificial stuff – it's just better.
How to make my McDonald's Big Mac recipe:
Whisk together the sauce ingredients and set aside.
Toast the buns.
Cook the burger patties.
Assemble the sandwiches.
Small buns work best for this. Think about the size of a big mac. It's tall but not wide, so you don't need lumber-jack size buns. The small the buns the better – but not slider size either. To make this as authentic as possible, I use a third bun, which is the bottom of an extra bun. If you don't like the idea of wasting the top of a bun, you can make it without it, and it will taste the same. You can also use the top part of the buns for paninis or pressed sandwiches. Once you press it, you really can't tell it's two tops!
The meat will cook very quickly, but it's also fragile. Cook the patties for about 60 seconds, gently pressing them down so they don't shrink too much, carefully flip, and finish on the second side for 60 more seconds.
The onion on the McDonald's version is rehydrated, but I used finely diced white onion and mellowed it out by soaking it in hot water. You can also rehydrate dried onion in hot water.
There's also a very specific order that you want to assemble these.
Bottom bun.
Sauce -> onion -> lettuce -> cheese -> beef patty.
Middle bun.
Sauce -> onion -> lettuce -> pickles -> beef patty.
Top bun.
I can't remember the last time I ate fast food, but my hubby still loves a Big Mac and now he can have them any time he wants with zero guilt. This recipe is easy peasy, and you can have it on the table in about 10 minutes – after you let the sauce hang out for a bit.
This recipe is for one sandwich but is easily doubled or tripled. It also makes a little extra sauce. In my husband's opinion, they never add enough, so this will give you a little extra.
Serve this with skinny fries (with plenty of salt) for the ultimate Micky D's experience at home!


Serve this with:
Did you try this recipe?
Leave us a comment or rating below!
Tag and hashtag us on Instagram @nashvillemade #nashvillemadefood
Sign up here to receive our weekly roundup in your inbox.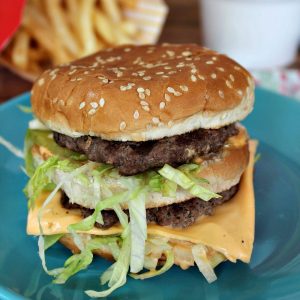 McDonald's Big Mac Copycat Recipe
Plain Everything Recipe Index
A healthier recipe for McDonald's Big Mac recipe that you can enjoy at home anytime you want - and that includes the sauce!!
Ingredients
Burgers
2

2-ounce

beef patties

Pinch of salt and pepper
Special Sauce
1/3

cup

mayonnaise

2

tbsp

French salad dressing

2

tsp

ketchup

1

tsp

white vinegar

1

heaping tbsp

sweet pickle relish

1

tsp

dried minced onion

Pinch of salt and pepper
Everything Else
1

sesame seed bun + additional bottom bun, all toasted

1

slice

American cheese

2

tsp

finely diced onion, soaked in hot water

** see note

1/2

cup

chopped lettuce

3

dill pickle slices
Instructions
Special Sauce
Mix special sauce ingredients until well blended in a microwave-safe container.

Microwave for 25 seconds. Stir well.

Cover and refrigerate at least 1 hour before using.
For the Burger Patties
Place a large skillet over medium-high heat.

Flatten the patties out until they are very thin, flat, and wider than the buns.

Place in the skillet and cook for 60 seconds.

Lightly salt and pepper the first side.

Carefully flip the patties and lightly salt and pepper the second side.

Cook for 60 seconds and remove them from the pan.
To Assemble Burgers
In a dry skillet, toast the inside of the buns. (use the same skillet before you cook the meat)

On the bottom bun, add 1/2 tbsp sauce, 1/2 tsp onion, 1/4 cup lettuce, 1 slice of cheese, and 1 patty.

On the bottom bun, add 1/2 tbsp sauce, 1/2 tsp onion, 1/4 cup lettuce, and 1 patty.
Notes
To mellow out the flavor of the onion, cover it with hot water after dicing it, and let it sit until you're ready to assemble the sandwich. Make sure you drain it well on a paper towel first.