Chicken Protein Bowls are easy to prepare, nutritious, and packed with protein to keep you feeling fuller for longer!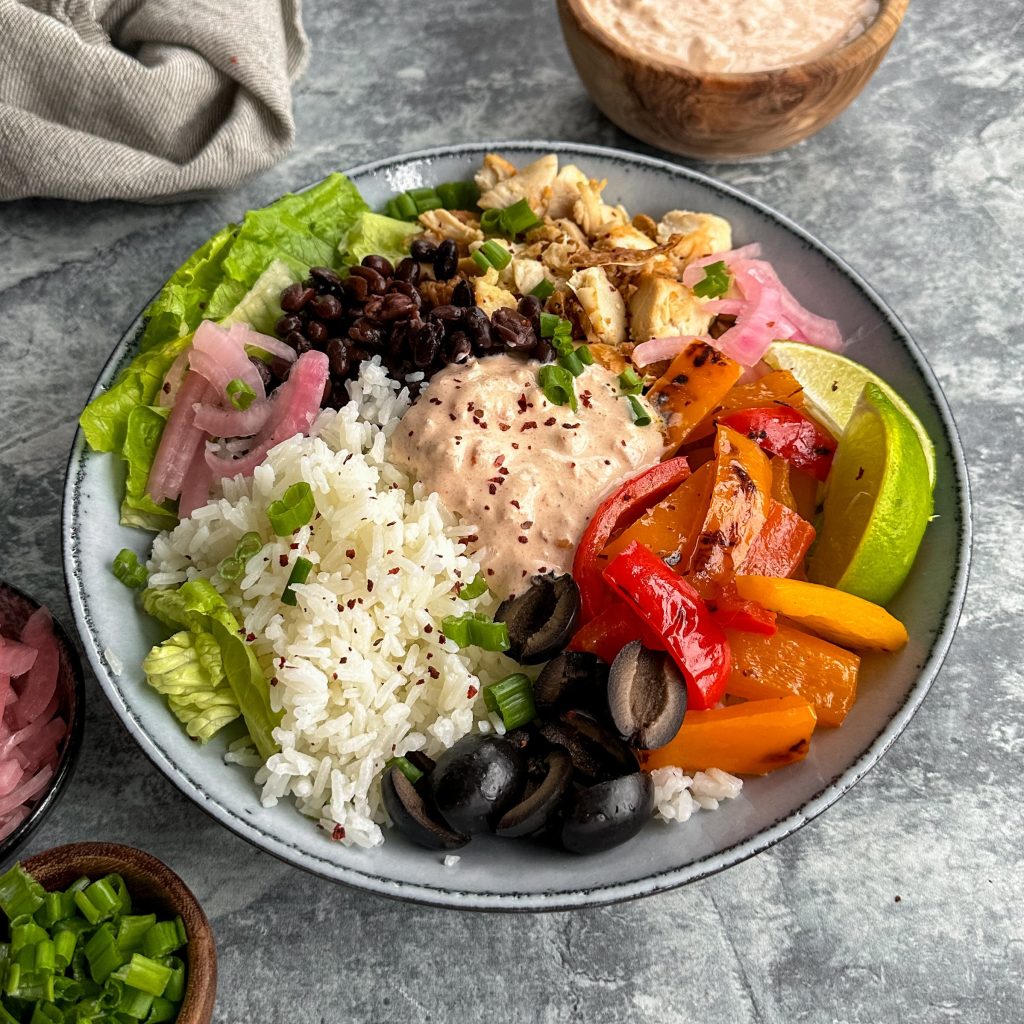 I LOVE a meal in a bowl, and these chicken protein bowls do not disappoint. The combination of savory chicken, crisp veggies, and a cool, creamy sauce is delicious! Meal bowls are also a great way to use leftovers and random ingredients with endless variations. Most people struggle with leftovers, and this is a perfect way to turn them into a completely different meal!
There are four basic steps to building a good meal bowl:
Choose a base. This could be greens, grains, or both. Our favorites include crunchy romaine, arugula, kale, rice, and potatoes.
Pick a protein. Cooked chicken, beef, and shrimp are perfect. Meatless options would be avocado, eggs, and legumes.
Add some toppings. This is a great way to add tons of texture and flavor! Tomatoes, cucumbers, cheese, pickled onions, nuts, and dried fruit. The options are endless!
Finish with sauce. A great sauce elevates the whole dish, and I have some ideas for you below.
This post will discuss what went into this chicken protein bowl and ideas for making your own high-protein bowls at home!
Chicken Protein Bowls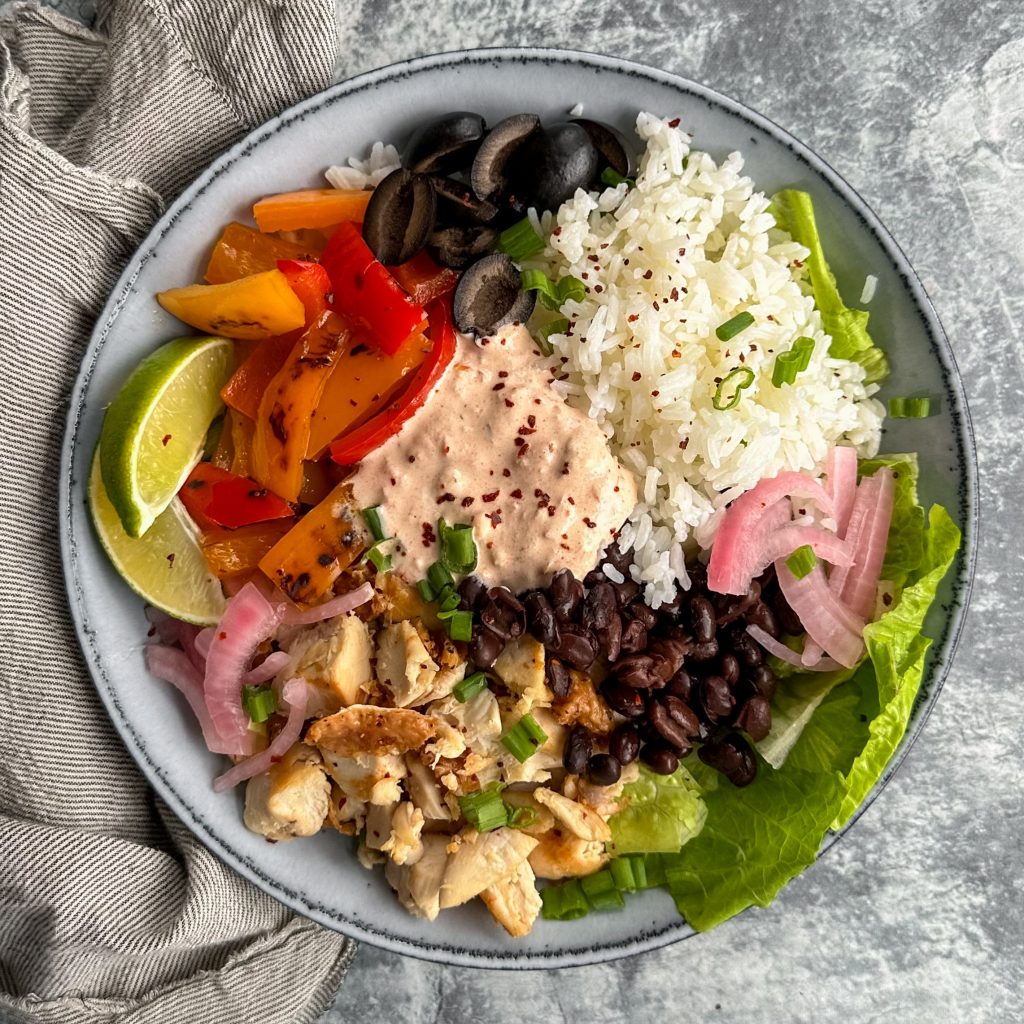 What's To Love About Chicken Protein Bowls
Protein. A meal bowl can easily be loaded up with protein, keeping you fuller for longer.
Less waste. To reduce food waste, we prepared these mostly with ingredients that needed to be used.
Easy. Since we're mainly using ingredients we already have, these require minimal cooking, making them quick and easy!
Tons of texture. One of the things I love about a meal bowl is the variety of textures.
Versatile. These are perfect for meal prep, lunch, or dinner!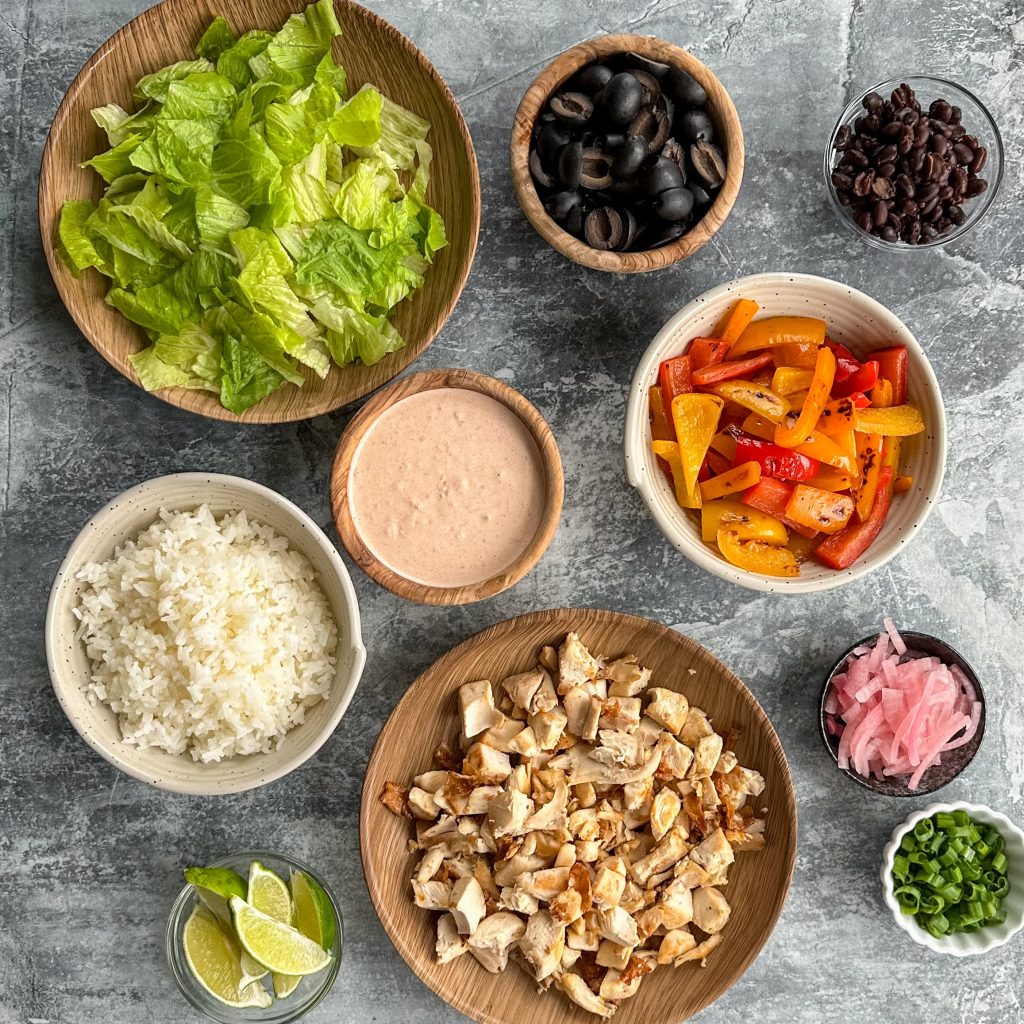 Ingredients You'll Need
Chicken. We used rotisserie chicken, but use any protein you have. Leftover ground beef, steak, pork – anything goes!
Rice. My oven-baked rice is part of my weekly food prep. You can also use cooked quinoa, farro, potatoes, or pasta as a base.
Lettuce. Any crisp, fresh greens will do. Use what you like and use what you've got!
Beans. Beans contain fiber, proteins, and nutrients. I like the creaminess of cannellini beans, but chickpeas would add some nice texture.
Pickled onions. I make a batch of these every week. They add sweetness and crunch.
Scallions. I'm obsessed with scallions and add them to everything!
Peppers. Roasted peppers are also part of my weekly food prep. We love them!
Limes. A squeeze of fresh lime adds acidity and brightens up the dish.
Olives. They add a salty, spicy element to any dish. A pantry staple!
Sauce. A killer sauce can completely transform a dish. For this, I made my sour cream sauce, and it was perfect.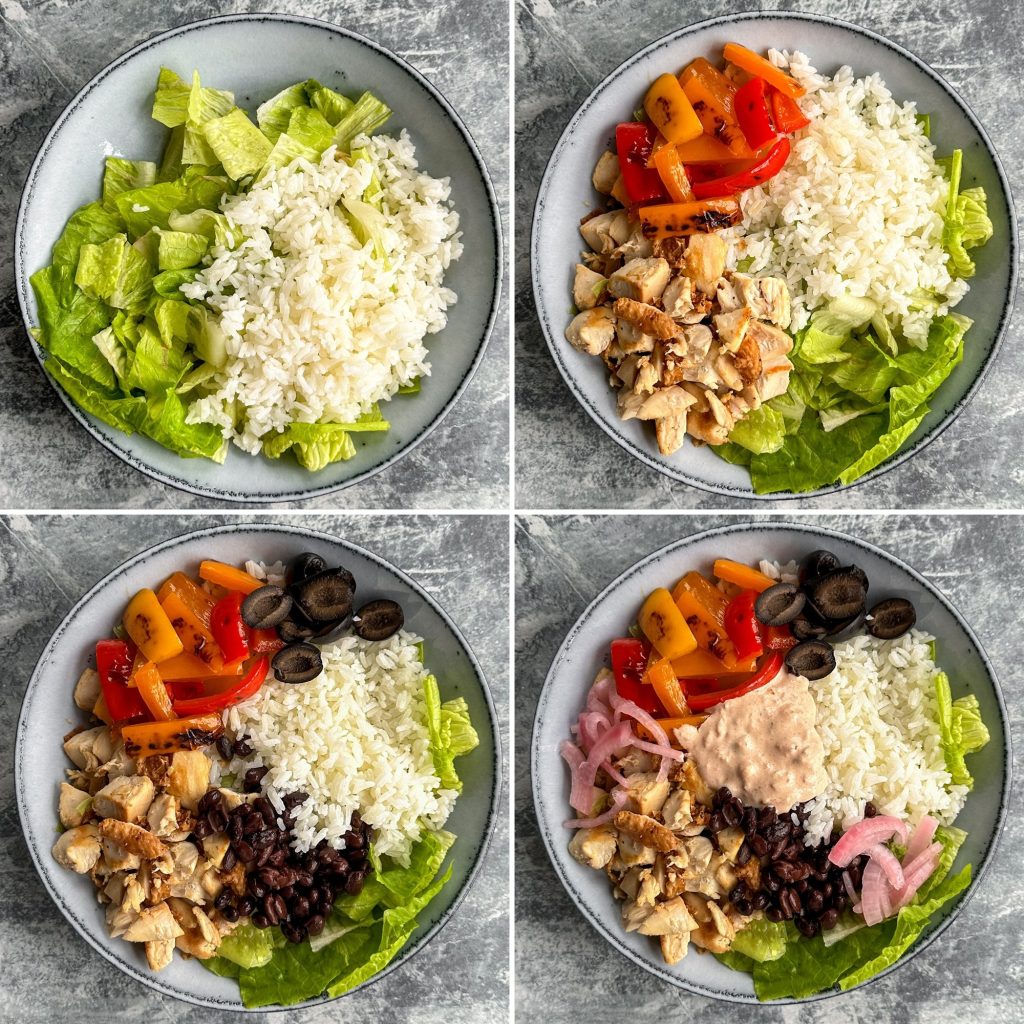 How to Make Chicken Protein Bowls
Start with the sauce. The longer it sits, the better it tastes.
Make the rice if you don't have some left over. A rice cooker makes this quick and easy.
Prep any other ingredients you want to add. I drained the beans for this bowl and sliced the olives, scallions, and limes.
Shred the chicken. My chicken was already shredded because that's part of my weekly food prep. 
Pro tip. To add a TON of protein, cook your rice in bone broth! The nutritional benefits of bone broth far outweigh regular broth or stock, and it's loaded with protein. I like this brand, and it's a good value.
Serving Suggestions
Meal bowls can be served warm or cold. I love combining rice and lettuce, so I warm any ingredients that need to be before adding them to the bowl. I just popped the leftovers from previous meals in the microwave.
Add beans, cheese, avocado, nuts, and eggs for extra protein. Swap the chicken out for whatever meat you have. Leftover cooked steak, ground meat, and shrimp are great protein sources!
We used leaf lettuce today, but kale, spinach, or arugula would also work well. I love adding greens to my meal bowls. It lightens it up a bit and adds nutrition and texture.
Leftover cooked quinoa, farro, or even pasta would be delish. For something fun, make a mashed potato bowl!
For the toppings, fresh tomatoes add color and sweetness. Avocado is full of healthy fat and adds a delicious creaminess. Corn adds sweetness and crunch. Cilantro (or any fresh herb) gives a bright, fresh, herby flavor.
For the sauce, try to use your favorite dressing or make a simple vinaigrette to keep it dairy-free and light. This bowl has a southwest vibe, so I used my sour cream sauce. That recipe is below.
You can change the sauce and toppings to make it your own. For a Mediterranean vibe, use tzatziki as the sauce, add kalamata olives, oregano, cucumbers, red onions, and even hummus. To go the Asian route, you could use your favorite sesame dressing, shaved carrots, edamame, bean sprouts, snow peas, and chow mein noodles for crunch.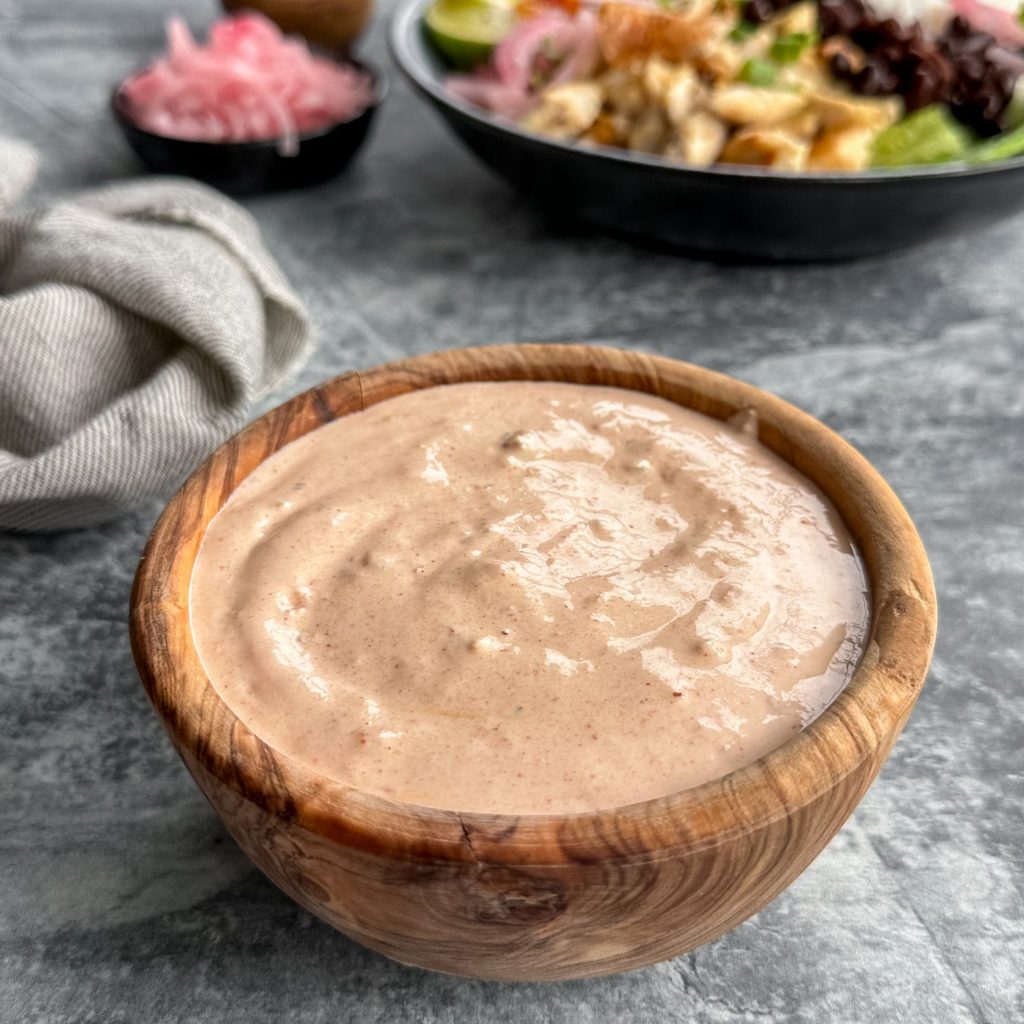 Recipe Variations + Helpful Tips
When making a meal bowl, have fun and get creative. Anything goes! As mentioned above, we think meal bowls are a great way to use up ingredients that are about to go bad.
It takes me about an hour once a week to prep our favorite veggies and proteins, and the time and energy it saves throughout the week is invaluable!
I used my oven-baked rice to make this bowl. One of the reasons I LOVE that rice recipe is that it's so easy to change up. Use different broths, herbs, and seasonings to make it your own. A few of my favorite flavor combos are cilantro and lime, butter and lemon, garlic and herb, and turmeric with lemon.
When scoping out your ingredients, whatever needs to be used can be added to a meal bowl!
Don't sleep on the sauce. A great sauce brings the dish together and can change it up! My easy honey mustard, sour cream sauce, ranch dressing, and lemony pesto are all excellent places to start!
Products + Equipment Used in This Recipe
Questions About This Recipe
How can I make these for meal prep?
Add the ingredients to a meal prep container using the tips above, keeping things like lettuce separate and adding it when you're ready to eat!. If using leftovers, be sure to eat the meal before the most perishable item before it spoils.
How can I add more protein?
My favorite protein sources are tuna, lunch meat, cottage cheese, eggs, and avocado. All of these can be worked into a variety of meal bowls. I usually eat the cottage chees on the side, but you can also use it in place of mayonnaise and Greek yogurt in your favorite dressing or sauce recipe.
Can I use ground meat?
Absolutely, and it's perfect for high-protein meal bowls! Ground beef, chicken, or turkey are versatile and go with everything. Burger bowls are one of our favorite meals and a great way to use up ground beef. Just top a bed of greens with ground beef, shredded cheese, tomatoes, pickles, and onions, everything you would put on a burger, including a burger sauce!
How do I make a keto protein bowl?
Use greens or cauliflower rice as the base, and choose low-carb proteins and toppings. Chicken, shrimp, tuna, cucumbers, avocados, onions, and bell peppers are all delicious. For some crunch, add toasted nuts or crumbled cheese crisps.
Can these made into vegan protein bowls?
Start with rice or greens and top with vegan protein options, including beans, avocados, tofu, and tempeh. Add roasted sweet potatoes, crunchy chickpeas, nuts or seeds, and dried fruit for some pizazz. A simple tahini vinaigrette takes it over the top!
How do I make a protein breakfast bowl?
Oh, I love a good breakfast bowl, and loading them with protein is so easy. My favorite combo is a base of scrambled eggs with cooked sausage links on the side. Add sliced avocado, black beans, a scoop of cottage cheese, and arugula, and you've got a delicious, high-protein breakfast!
Is this gluten-free?
Everything in this chicken protein bowl is naturally gluten-free. Because these bowls are so versatile, it's easy to adapt them to your dietary needs.
If you have food sensitivities or follow a special diet, check out our dairy-free, gluten-free, low-carb, and vegetarian recipes!
Serve This With
Please let me know if you try this recipe by commenting below or tagging me on Instagram. Sign up for my email roundup so you don't miss out on anything new. Thanks so much for being here, friends!
Save This To Pinterest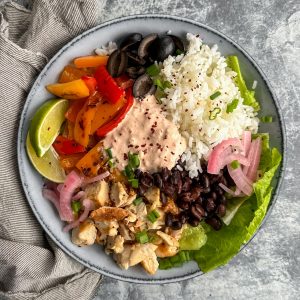 Ingredients
1

cup

diced rotisserie chicken

1

cup

choppeed romaine

1/2

cup

cooked rice

1/2

cup

roasted bell peppers

1/4

cup

black beans

1/4

cup

black olives

1/4

cup

pickles onions

1/4

cup

sour cream sauce

recipe above

Garnishes: pepper flakes, lime wedges, and scallions
Instructions
Make the sauce or dressing. Set aside.

Warm any ingredients that need to be.

Arrange the rice and lettuce in the bottom of the bowl.

Add the chicken, beans, oloves, onions, and peppers.

Top with desired amount of sauce.

Finish with garnishes and enjoy!