I've rounded up the Best Quick Service at Epcot, savory food edition. Share with friends and snack your way around the World Showcase!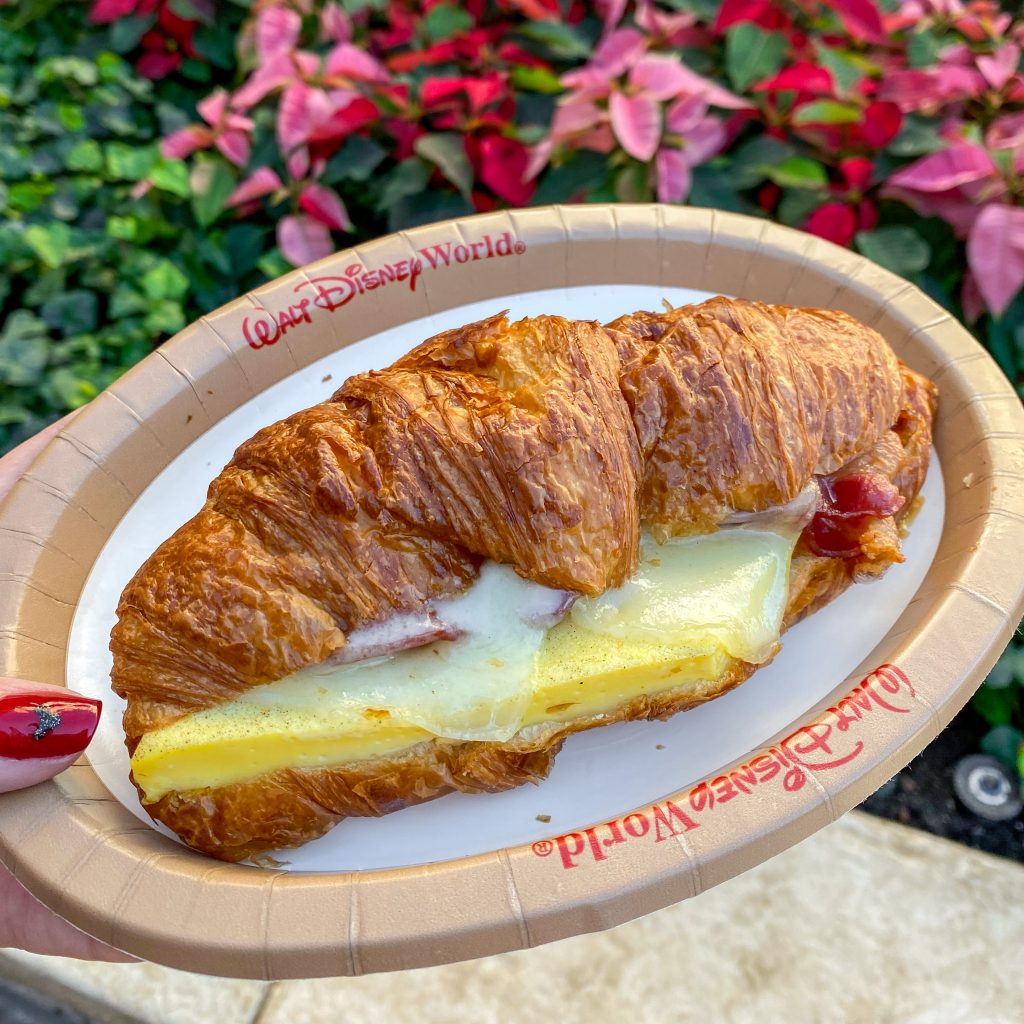 If you're a foodie, eating and drinking around the world showcase at Epcot is a must! With hundreds of options, it's a food lovers paradise, and there is something for everyone. Narrowing down the best quick service at Epcot was hard, and many dishes didn't make the cut!
Since planning our Disney vacation is part of the fun for us, we scour menus for months leading up to our trip. With over 50 dining options and 11 country pavilions, choosing where to eat can be overwhelming, and trying it all in one day is impossible. For this reason, we always plan two Epcot days. My #1 tip for snacking around the World Showcase at Epcot is to share food. Sometimes, you may only get a bite or two, but that's ok because there's more to come, a LOT more!
Best Quick Service at Epcot
Our last trip to Disney was at the end of 2022, and it was one of the best trips we've ever had. Our adult kids and grandson came with us, and we sampled so many dishes!
Sidenote. If you've never been in December, Disney World at Christmas is magical. You can find more on what to expect in these blog posts:
I'll always choose savory over sweet, so I'm sharing our favorite savory bites today. Stay tuned for our next list, which is right up my husband's alley – all the sweets!
When you snack around Epcot, you'll typically order from quick-service restaurants, carts, and kiosks. Most of our picks are from quick-service locations where no reservations are required, and you can grab your food and go. One of us usually gets the food while the other finds a place to sit.
Since Disney constantly updates their menus, prices and availability may change, so I've also included links to the current menus.
These are in order of location around the World Showcase. Before your trip, I suggest making a note of the hours, which you can check at the link above. If you enter the park through the International Gateway, the France Pavillion will be to the right. Since the Croissant Salé is my favorite breakfast, we'll start there and work our way around!
Croissant Salé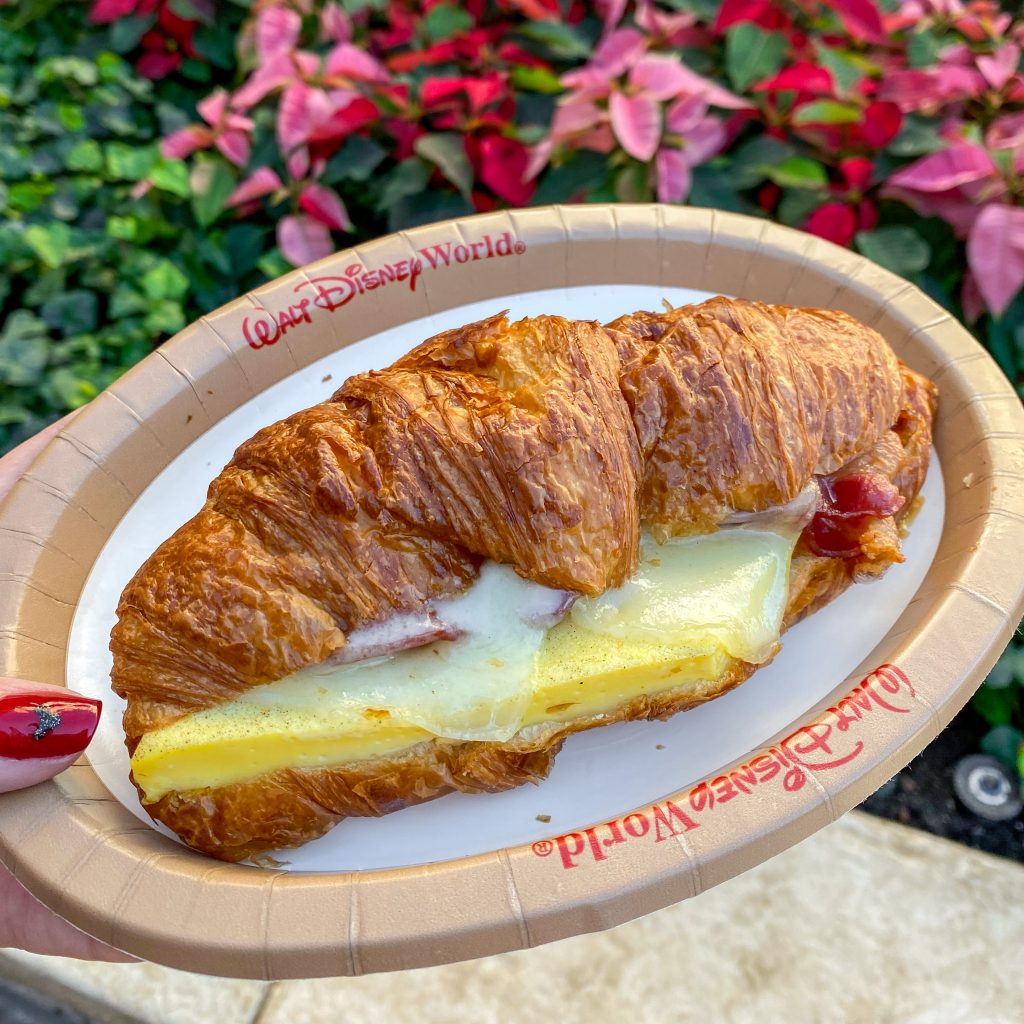 Location: Les Halles Boulangerie-Patisserie in the France Pavilion
Hours: 9:00 AM to 9:00 PM
It's impossible to leave Les Halles Boulangerie-Patisserie hungry! The selection of both sweet and savory food items is enormous. It's usually our first stop, so we can start the day with the Croissant Salé and espresso. The croissant is buttery, flakey, and filled with a generous amount of bacon, egg, and Swiss cheese. It's served straight out of the case, so always ask for it to be toasted for ultimate deliciousness! See the current Les Halles Boulangerie-Patisserie menu here.
Pro tip: Les Halles Boulangerie-Patisserie is one of only two spots to get breakfast in the World Showcase at 9 AM. The other is Kringla Bakeri Og Kafe in the Norway Pavillion.
Jambon Beurre $10.95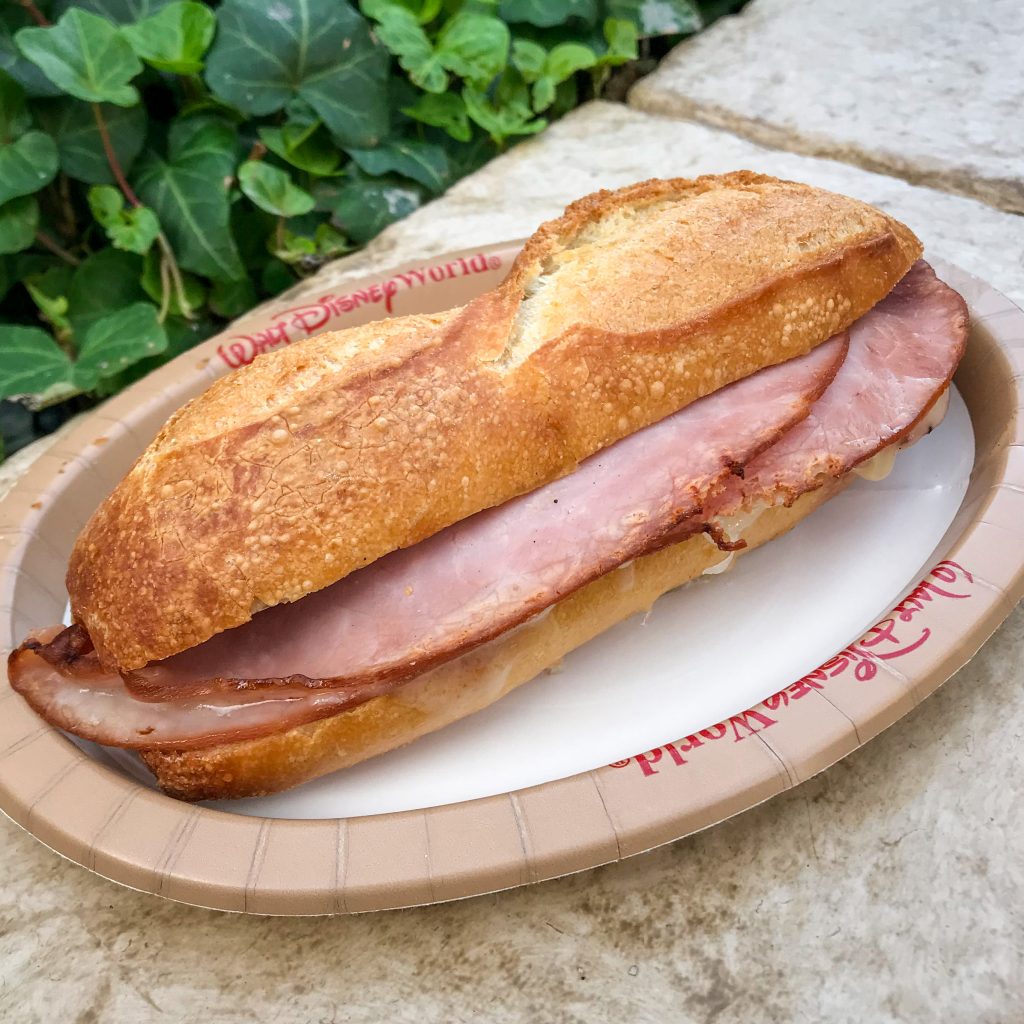 Location: Les Halles Boulangerie-Patisserie in the France Pavilion
Hours: 9:00 AM to 9:00 PM
If you love a classic, French-style baguette sandwich, the Jambon Beurre is another favorite. It's ham, cheese, and mustard butter on a freshly-baked demi baguette. It's HUGE and easily sharable.
Pro tip: You can get just a baguette for $3.95 or half of a baguette for $2.75. Grab some wine and cheese, find a place along the water, and have a relaxing and delicious meal!
Tokyo Sushi Combo $12.00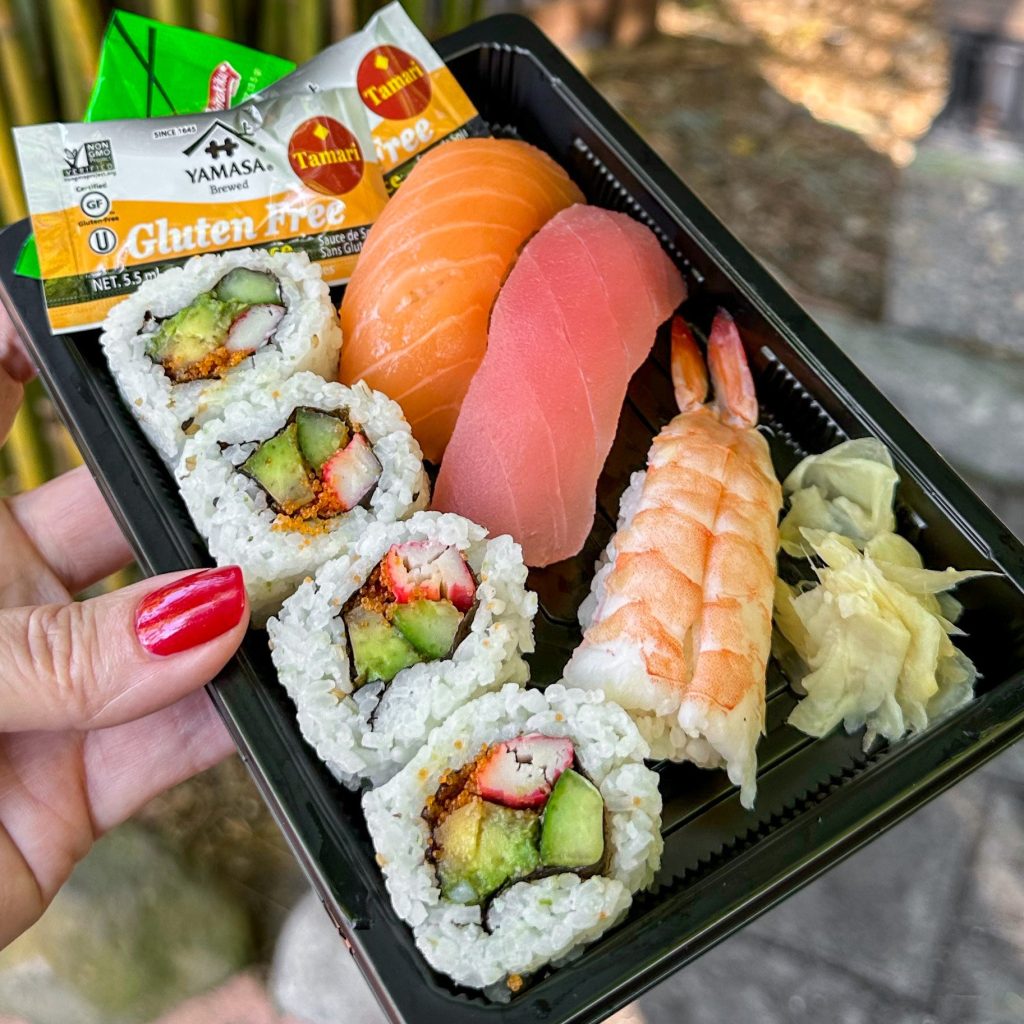 Location: Katsura Grill in the Japan Pavilion
Hours: 11:30 AM to 9:00 PM
The combo comes with four pieces of California roll, three pieces of Nigiri, a wasabi packet, soy packets, and pickled ginger. Gluten-free soy sauce is available by request. Overall, this was tasty and fresh, with an excellent rice-to-seafood ratio. It hit the spot on an 85° day! If sushi isn't your thing, you can't go wrong with anything on the menu here. The edamame is a great little snack. It's served chilled and will only cost you $4.50. See the current Katsura Grill menu here.
Pro-tip. Katsura Grill is popular and gets very crowded. While there is plenty of seating outside, the inside is quite small. If it's a hot day and you want to eat indoors, I recommend going when it's not prime meal times. I would actually suggest this for any Disney restaurant on a crowded day!
Sicilian Pizza Slice (around $9 – price varies)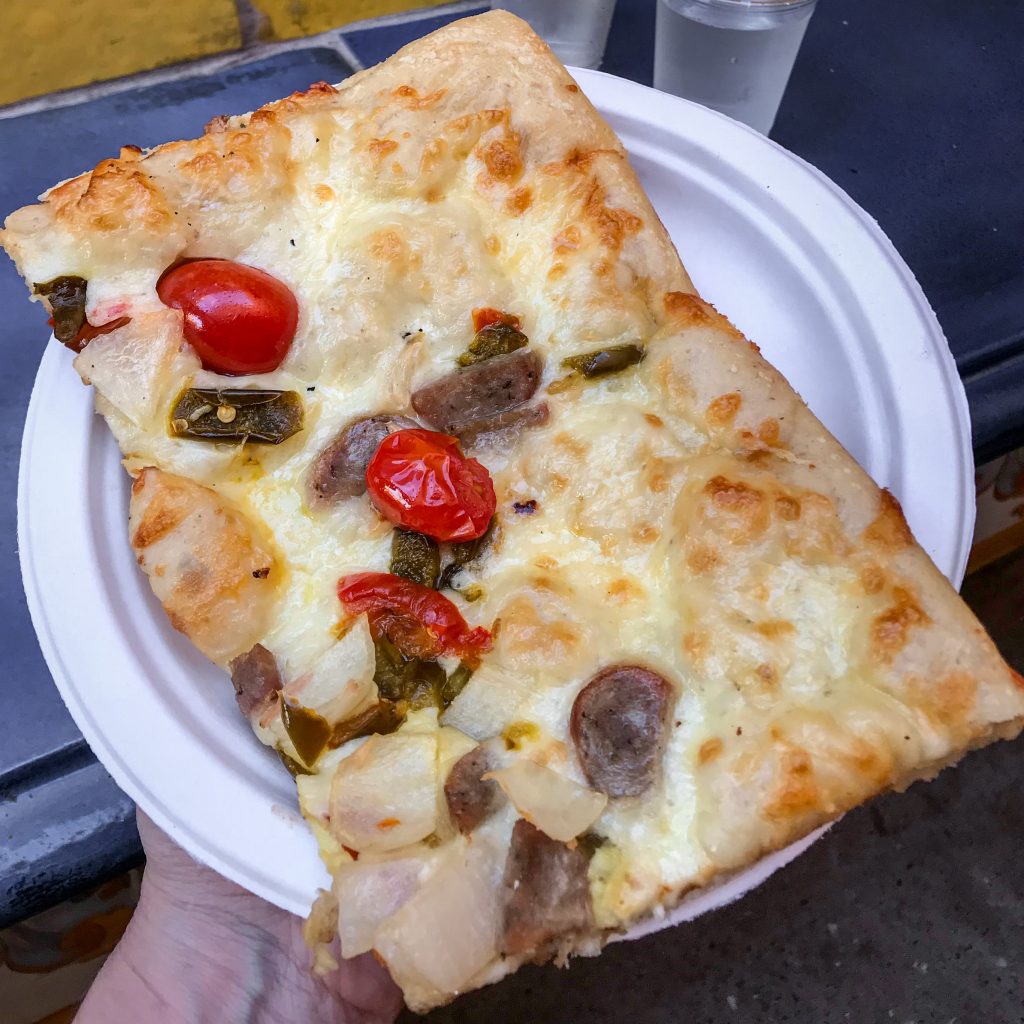 Location: Pizza al Taglio in the Italy Pavilion
Hours: Hours vary – see note below.
Pizza al Taglio (formerly the Via Napoli Pizza Window) serves up pizza by the slice, wine, beer, and cocktails. Since the slices are Sicilian style, they're big, thick, and filling. Note that this is NOT the thinner crust, Neapolitan-style pizza served at Via Napoli.
Pro-tip. The walkup window is next to Via Napoli and opens seasonally. Rumor has it that they're only open 180 days a year, and there's no way of knowing if it's open before you head to the park.
House-made Paprika Chips $4.49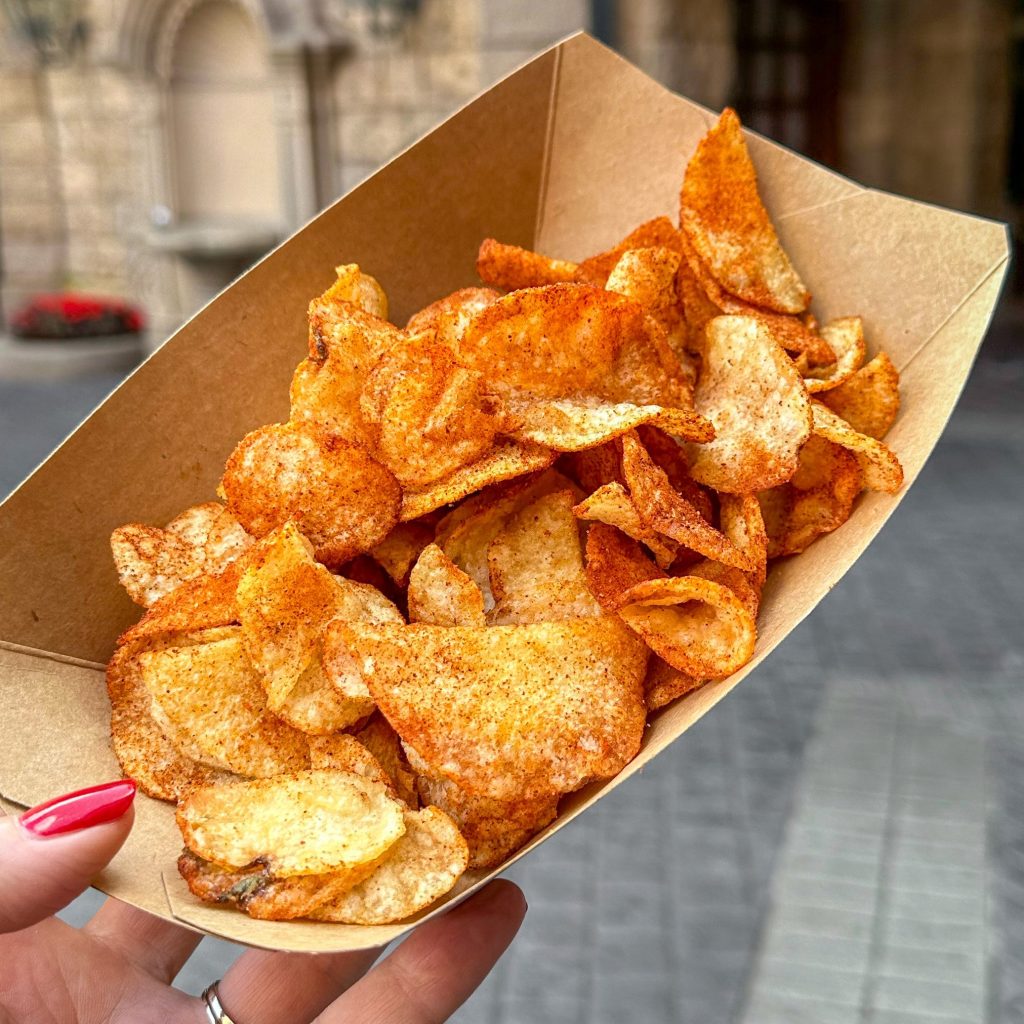 Location: Sommerfest in the Germany Pavilion
Hours: 12:00 PM to 8:00 PM
The paprika chips from Sommerfest in the Germany pavilion are a must! They're freshly fried and coated with a generous amount of paprika seasoning. Pair them with a German beer, and you have a perfect snack! Note that these chips are not on the menu, so ordering at the Sommerfest inside window is the only way to get them. See the current Sommerfest menu here.
Pro-tip. There's a lot in the Germany pavilion, including Sommerfest, the Bier stand, Bier und Brezeln cart, and Karamell-Küche. We usually spend extra time here enjoying our paprika chips with a good beer and grabbing a sweet treat in Karamell-Küche.
Bratwurst Sandwich $10.99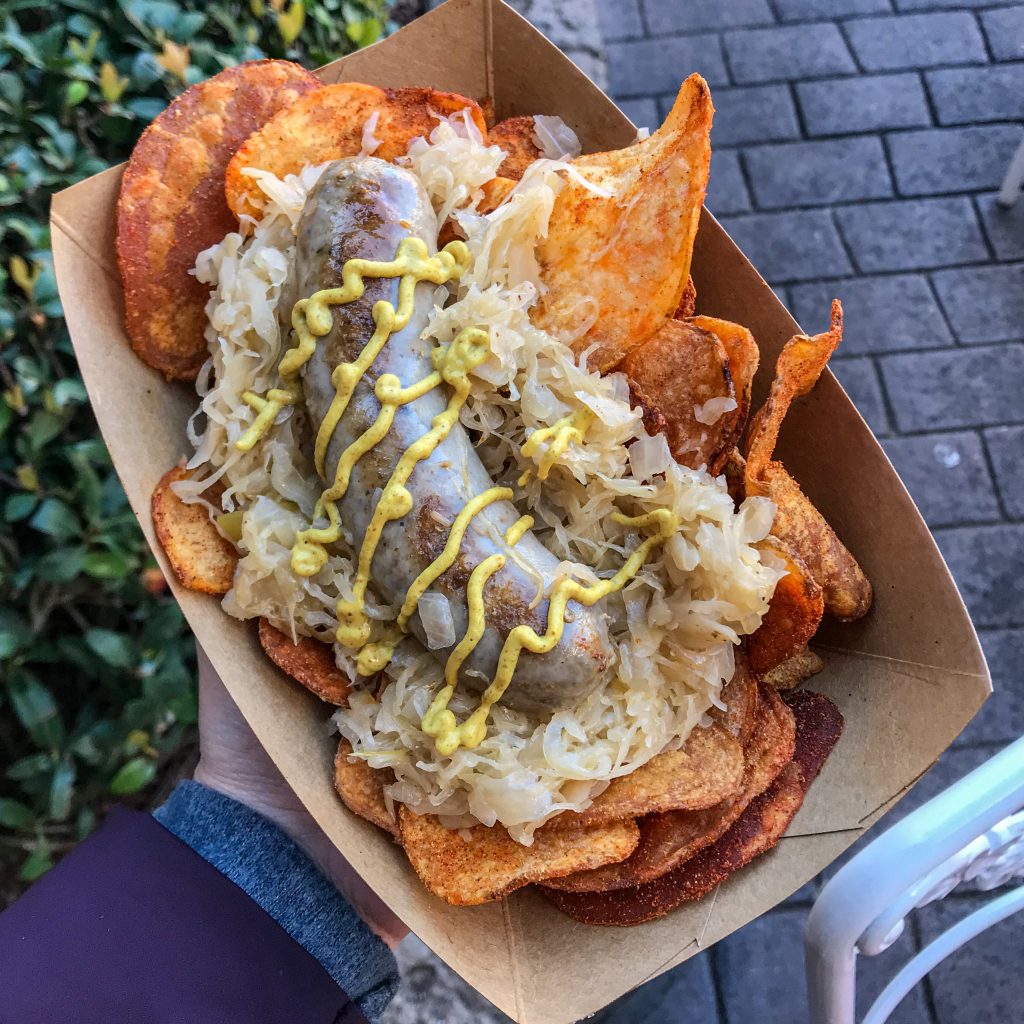 Location: Sommerfest in the Germany Pavilion
Hours: 12:00 PM to 8:00 PM
The Bratwurst sandwich is another fantastic value! It's a full-size Bratwurst served on a soft roll with sauerkraut and paprika chips. A few people could share this as a snack, but it's also big enough to split between two people as a light lunch. If we do that, we'll usually order an extra side of chips!
Pro tip. You can request that hold the bun, as we did here. If you're gluten-free, this is an option at most Disney dining establishments. Disney is great when to comes to working with food allergies!
Jumbo Pretzel $11.50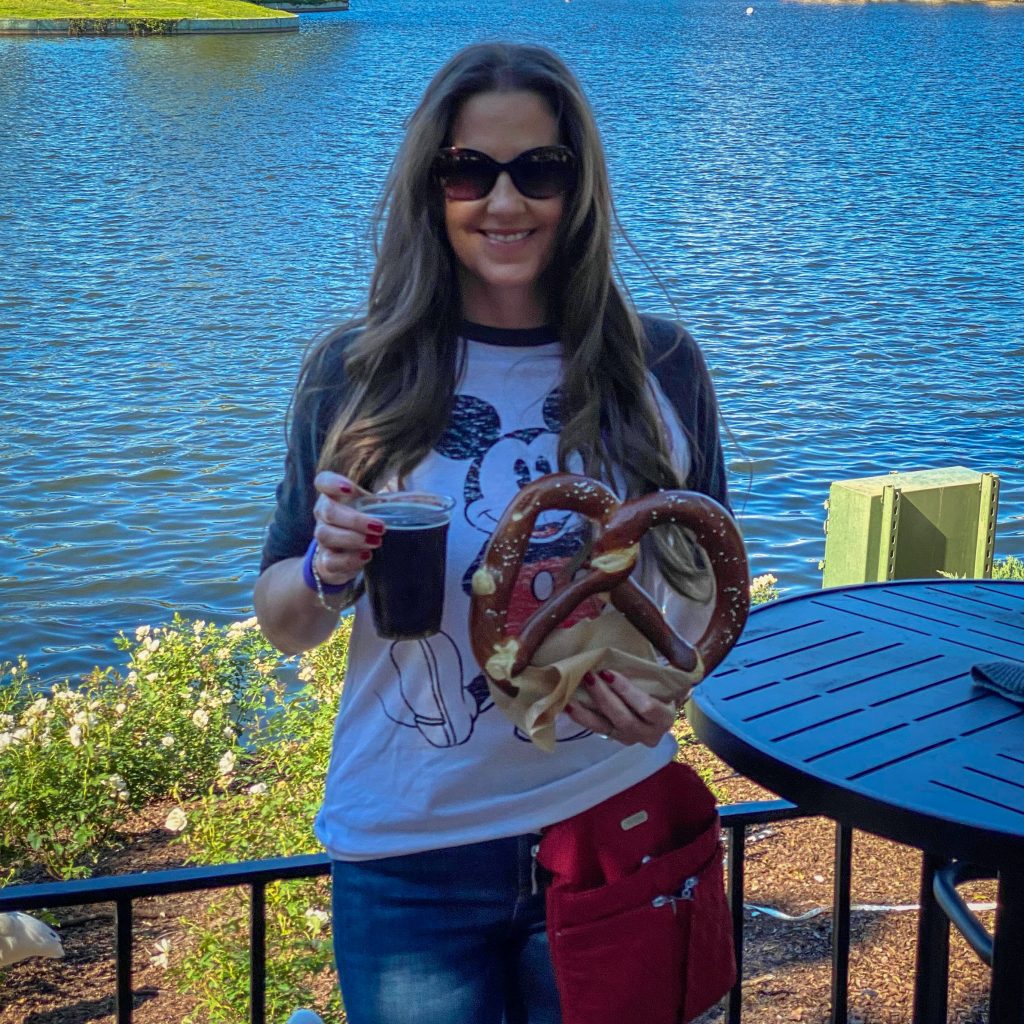 Location: Bier und Brezeln Beer & Pretzel Cart in the Germany Pavilion
Hours: Open the same hours as the World Showcase, which are usually 11:00 AM to 9:30 PM
While in the Germany pavilion, grab a jumbo hot pretzel at Sommerfest or outside at the Bier und Brezeln Beer & Pretzel Cart. It's HUGE, as you can see in the picture of me holding it! Two or three people can easily share this with a German beer as a snack! There is no menu posted online.
Pro tip. The cart is usually parked just outside of the Germany pavilion, closer to the water.
Empanadas con Queso $14.00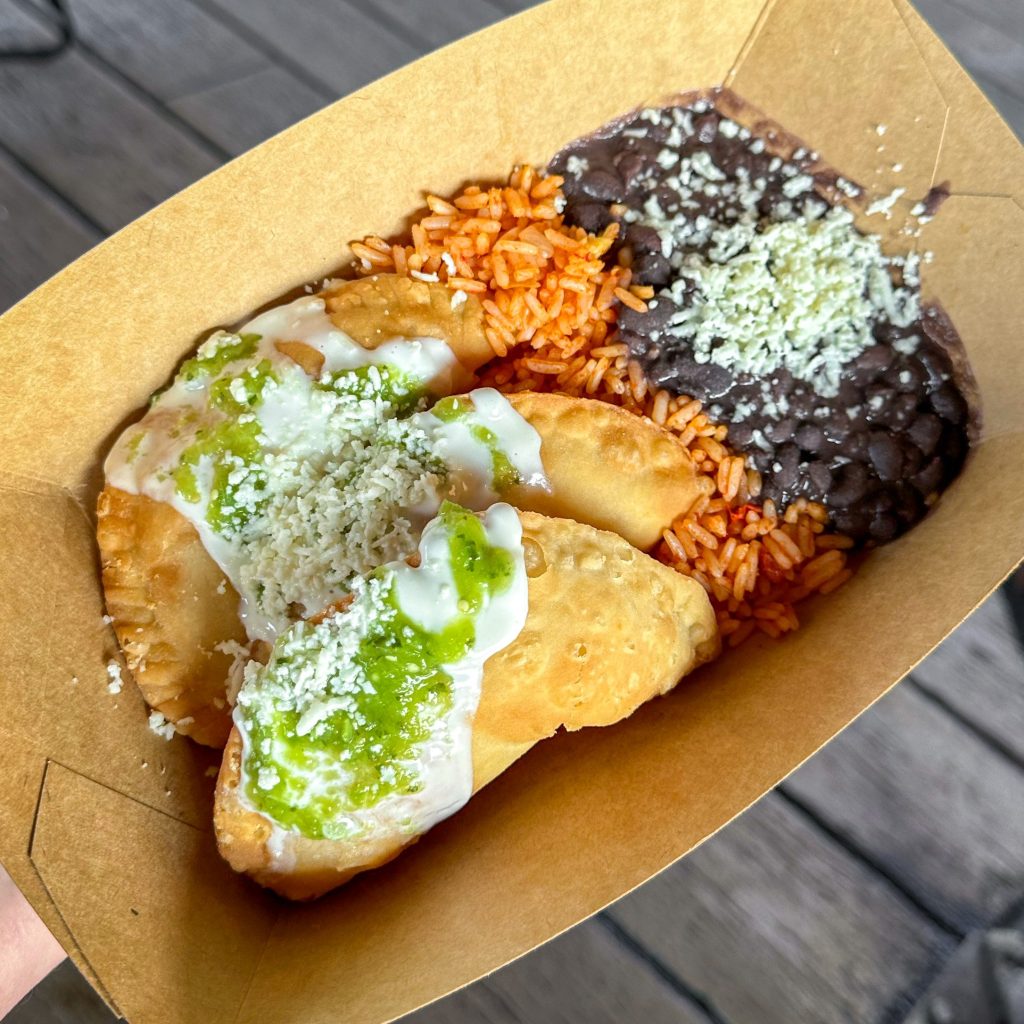 Location: La Cantina de San Angel in the Mexico Pavilion
Hours: 10:00 AM to 9:00 PM
Holy moly, these empanadas are SO GOOD! Each order comes with three crispy, flaky empanadas filled with cheese and topped with salsa verde, sour cream, and queso fresco. They're served with seasoned rice and black beans. Our whole family loved these! Honorable mention is the Taco Trio, which has three tacos (Barbacoa, Pollo, and Camarón), rice, and black beans with queso fresco for $15.50. See the current La Cantina de San Angel menu here.
Pro tip. Be sure to stop by the condiment station for complimentary salsa!
Scotch Egg $14.00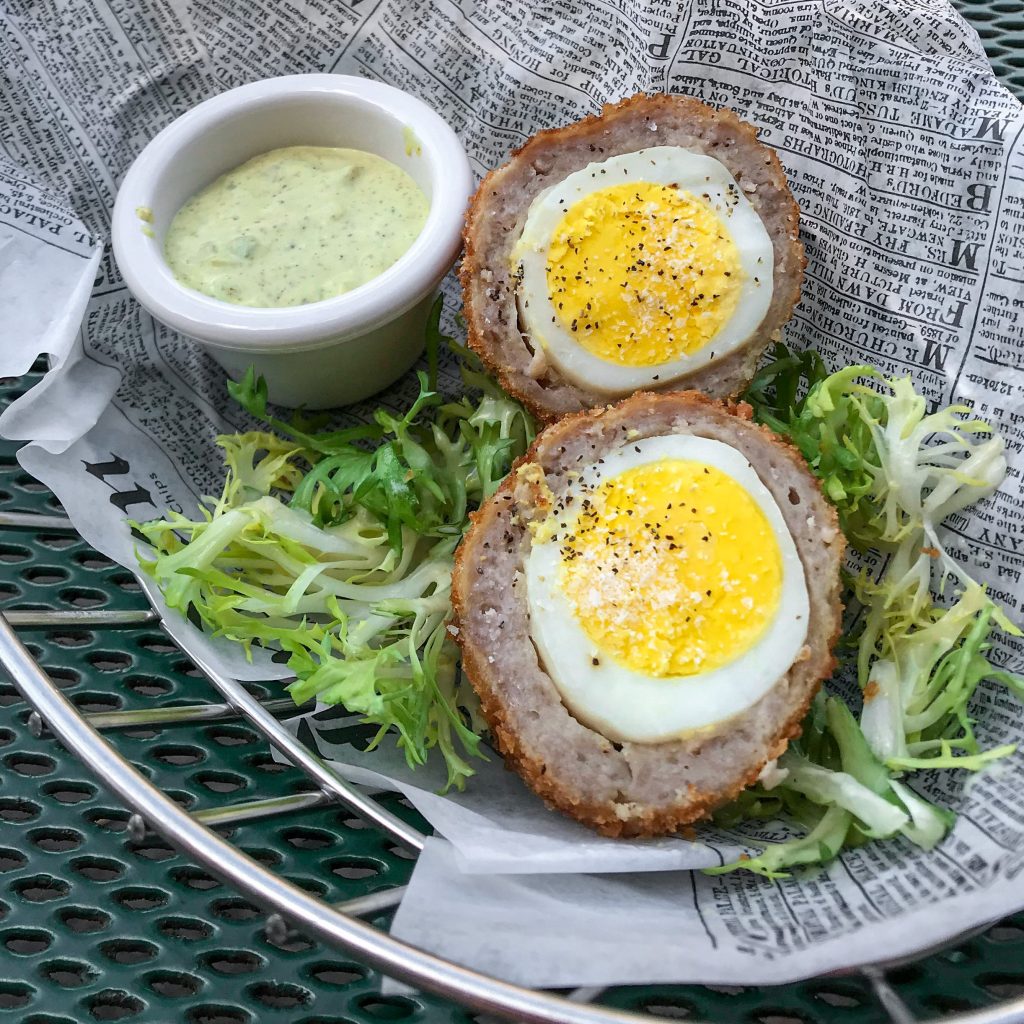 Location: Rose & Crown Pub in the United Kingdom Pavilion
Hours: 10:30 AM to 9:00 PM (see tip)
My husband's favorite snack at Epcot is the Scotch Egg from Rose & Crown Pub, with a properly poured Guinness to go with it. The egg is hard-boiled before being wrapped in sausage and deep-fried to crispy perfection. It's served over hearty greens with mustard sauce on the side. This is a must for us every trip!
Pro tip. Since the Scotch egg is on the Rose & Crown dinner menu, it's only available in the pub once the dining room opens at 4:00 PM. The pub is open from 10:30 AM to 9:00 PM, and you can find the current Rose & Crown PUB menu here.
Beer-battered Fish and Chips $12.99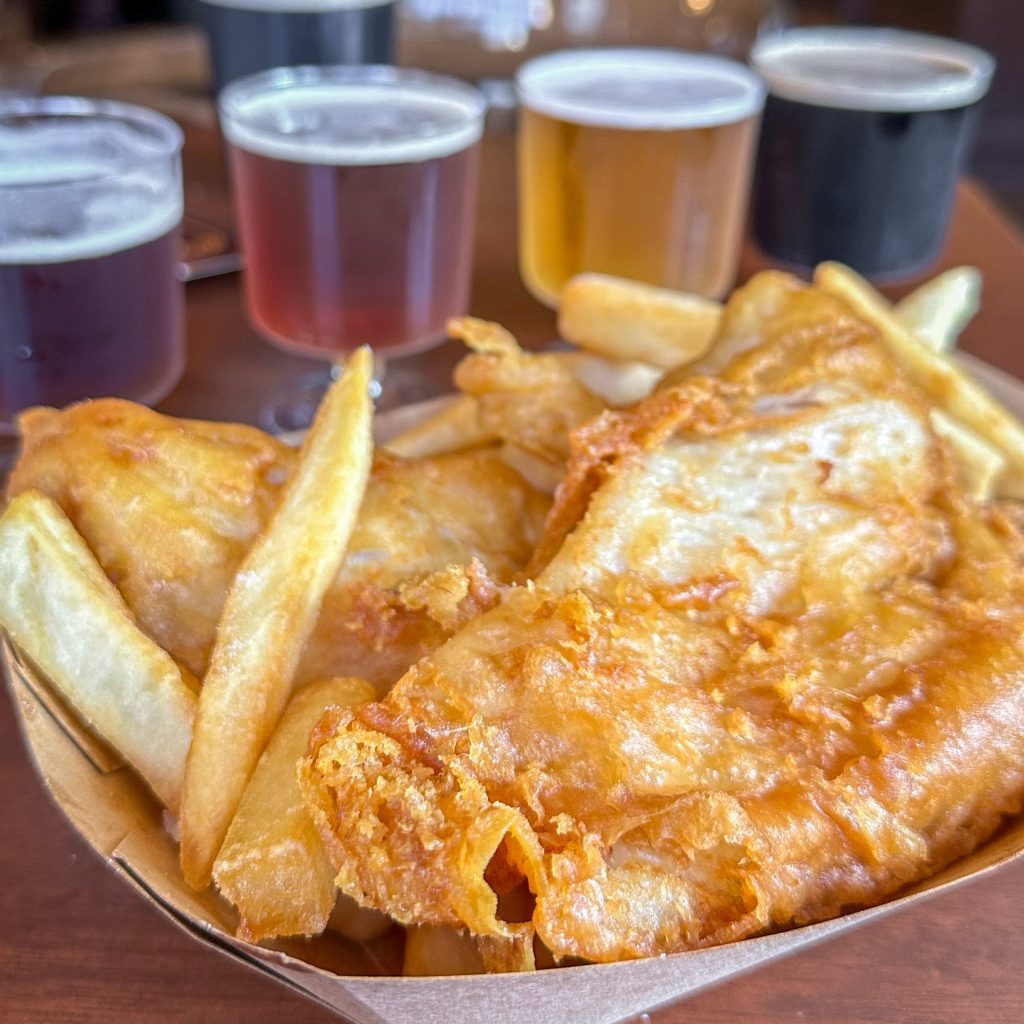 Location: Yorkshire County Fish Shop in the United Kingdom Pavilion
Hours: 11:00 AM to 9:00 PM
Perfectly fried, crunchy, thick pieces of fish served on a bed of salty, crispy fries. Need I say more? I don't usually crave fried fish, but I look forward to this dish for months before our trip. It always hits the spot! This place stays busy, so you can count on the hot and crisp fish. It's never sitting under a heat lamp! The Fish Shop is a walk-up window next to Rose & Crown Pub. As you can see in the picture, we enjoyed this inside Rose & Crown Pub with a beer flight! See the current Yorkshire County Fish Shop menu here.
Pro tip. If you walk down the path behind Yorkshire County Fish Shop, there's more seating by the water. Even on crowded Disney days, we can usually find a place to sit away from the crowd, plus you'll have gorgeous views of the World Showcase Lagoon!
I hope you enjoy this roundup of the best quick service at Epcot – savory edition. Stay tuned for our favorite sweet treats coming soon!
What are some of your favorite dishes at Epcot? Please share in the comments, and we'll add them to our list to try on our next trip!
More Disney Posts You May Enjoy
Did You Find This Helpful?
Please leave us a comment below, and share your Disney tips!
Sign up here to receive our weekly roundup in your inbox.