If you're headed to Walt Disney World in December, we've got the average weather, crowds, events, tips, and strategies!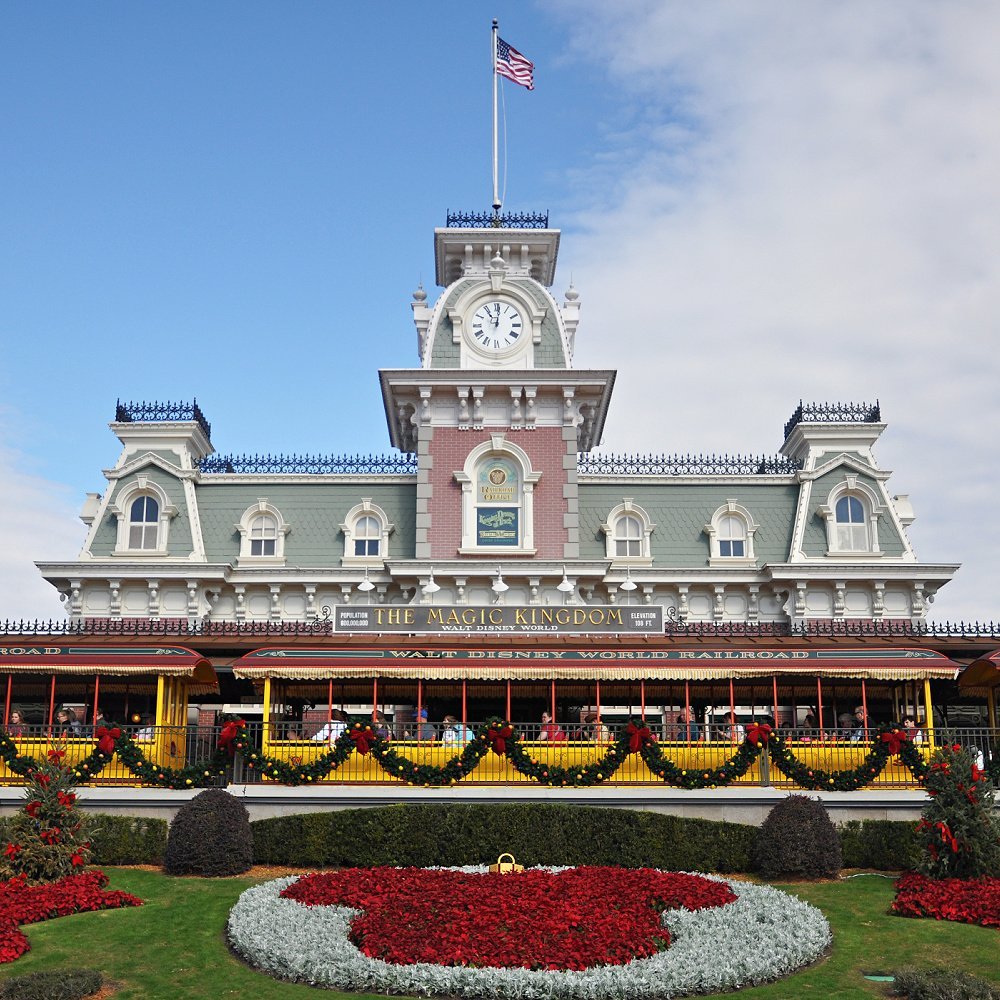 It is time to get holly jolly! From the merry decorations to the themed food and events, Disney knows how to celebrate the holidays. Let's dig in to find out all the ins and outs of Walt Disney World in December! 
December Weather at Walt Disney World
Expect to start feeling a chill when visiting Walt Disney World in December. Temperature averages will range from highs in the 70s° and lows in the 50s°. With temps like that, evenings may make you feel like you are in a winter wonderland! 
As with November, central Florida weather can be unpredictable, with much hotter or cooler days than anticipated. It is best to pack various clothing items, that way, you avoid frantically buying a new wardrobe while playing in the parks. And good news – hurricane season is officially over, which means less rain and humidity! 
December Crowds at Walt Disney World
While there are pockets of slower times, overall, expect elevated crowds at Walt Disney World in December. Peaks, of course, will be the week of Christmas and New Years'. Luckily this year, Christmas falls on a Sunday and New Year's Eve on a Saturday – this may persuade some guests to visit simply that last week of December. Fingers crossed this has the earlier weeks lighter on the guest front. 
If you are looking for the lowest crowds, try the first week of December. This time between Thanksgiving and Christmas break is great because most families do not take off from work and school. Enjoying all the merry Disney happenings with fewer December crowds, now that is truly a gift! 
Once the second half of the month hits, expect crowds to skyrocket. Although this seems like it would be stressful (and it can be!), with the correct mindset, it can be a lovely experience! All the decor and festivities happening puts everyone in quite a merry spirit. I have found both guests and Cast Members to be more tolerant of the longer lines, crowded spaces, and wait times brought on by this time of year. 
The busiest time of the month, hands down is New Year's. However, this is one of my all-time favorite holidays to celebrate at Walt Disney World! Yes, it is crowded, and yes, it is more expensive, but there is nothing like ringing in the New Year at the parks.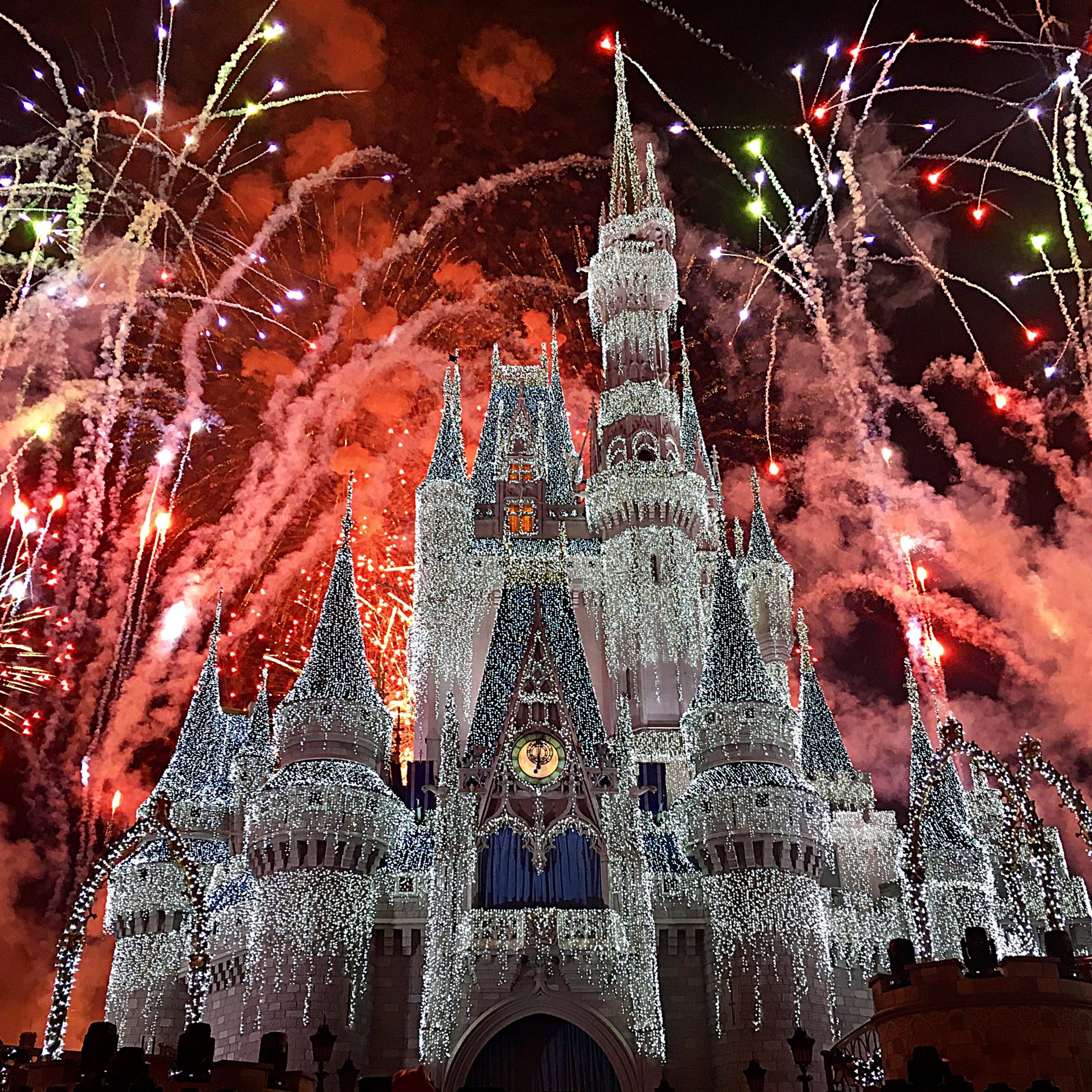 December Events at Walt Disney World
Mickey's Very Merry Christmas Party
Dates: November 8 to December 22, 2022
The aptly named "holly, jolly event" is returning this year! Celebrate the most magical time of year at The Most Magical Place on Earth! Enjoy unlimited cookies and hot chocolate, photo ops with characters dressed in their best holiday wear, and a festive parade and fireworks. 
EPCOT International Festival of the Holidays
Dates: November 25 to December 31, 2022??
Located throughout EPCOT's World Showcase, guests can get extra festive by learning (and enjoying!) how other cultures celebrate the holidays! Enjoy savory and sweet treats (cookie stroll), storytelling from special visitors, and the ever-popular Candlelight Processional. More details to come soon!
New Year Celebrations
Dates: December 30 and 31, 2022
Celebrate 2023 with memory-making fireworks displays at both Magic Kingdom and EPCOT! Although yet announced, typically, Magic Kingdom hosts two nights of its celebratory show "Fantasy in the Sky." As for EPCOT, expect on December 31st several dance parties throughout World Showcase. Then around five minutes before midnight, it is time to countdown to the New Year with "Cheers to the New Year: A Sparkling Celebration." 
Walt Disney World's 50th Anniversary
Dates: October 1st, 2021 to March 2023
"The World's Most Magical Celebration" features new rides, fireworks, and entertainment across all four Disney World theme parks!
Other Notable Events:
Disney Boy Soccer Showcase on December 27 – 31, 2022, at ESPN Wide World of Sports.  
December Closures and Refurbishments at Walt Disney World
The following will be closed during the month of December:
Parks:
Magic Kingdom – Walt Disney World Railroad (returning date TBD)
Blizzard Beach Water Park (returning date TBD)
Resorts:
Grand Floridian –  Narcoosee's (returning date TBD)
Polynesian – Kona Cafe (returning date TBD) 
Tips for Visiting Disney World in December
In years past, during the week of Christmas, Walt Disney World theme parks would reach capacity early in the morning. However, Disney's new theme park reservation system shouldn't cause any issues since guests will already have their parks booked. However, hopping to other parks is another story. Capacity limits may impact your ability to hop freely from park to park after 2:00 pm. Historically, Magic Kingdom is the first park to reach capacity (max 90,000 people), with Hollywood Studios and Animal Kingdom following (each with a max of 60,000 people). If you want to hop this week, I suggest that guests head to EPCOT as it has the highest guest capacity (max 110,000 people).
If the escalated crowd levels have you concerned, you can always stay back a day or two and enjoy the amenities offered at your Walt Disney World resort. And most offer far beyond just the awesome restaurants and pools. We have seen guided art projects (for an additional fee), hosted pool games for kiddos, trivia, and karaoke at the bars, and movies "under the stars." Ask a Cast Member at your resort for more details! 
Walt Disney World in December is a great time of year to dress in layers while visiting the theme parks. And don't worry about what to do with your jacket, sweater, or hat while riding attractions. Disney does not make visitors place their items in lockers before boarding attractions (like other theme parks may), and most rides have large storage spots to stow belongings. 
Don't let December's cooler weather scare you away from swimming – ALL of the pools at Walt Disney World resorts and parks are heated to 82 degrees! Plus, the hotels have many jacuzzis and hot tubs to soak in on those chilly December nights. If your family wants to swim for several hours, plan pool time during the middle of the day, as mornings and evenings will be significantly cooler. 


More Disney posts you may enjoy:
Did you find this post helpful?
Leave us a comment or rating below!
Tag and hashtag us on Instagram @nashvillemade #nashvillemadeatdisney
Sign up here to receive our weekly roundup in your inbox.
Join our Facebook Group where you can connect with other Disney addicts, ask questions, share photos, and get help planning trip!
Save this Post to Pinterest