The holidays at Disney World are truly magical, and we're covering all the holiday happenings, food, shows, decorations, and more!
The holidays at Disney World are extra special! Disney has thought of every aspect to make guests feel celebratory: from specialty food and decked-out parades to cozy winter gear and holiday-themed souvenirs. And don't forget Walt Disney World is still celebrating its 50th Anniversary, which adds an extra layer of festive enhancements this holiday season.
When does Disney World decorate for Christmas?
The festivities kick off this year on November 11th – expect Disney World to begin decorating for Christmas on this date. (FYI: If you are heading to Florida a little later in December, Disney typically takes down their Christmas decorations shortly after the New Year.) If you are curious about the weather, crowd levels, and other logistics this time of year, refer back to our December post.
Holiday Happenings at Magic Kingdom
Cinderella Castle will display very merry projections, Main Street is gussied up with trimmings, and several of the rides get a dash of the Christmas spirit with Yuletide overlays.
Mickey's Very Merry Christmas Party (Dates: November 8 to December 22, 2022) – The aptly named "holly, jolly event" is returning this year! Celebrate the most magical time of year at The Most Magical Place on Earth! Enjoy unlimited cookies and hot chocolate, photo ops with characters dressed in their best holiday wear, a festive parade, and fireworks.
FYI: the Disney World Christmas parade is performed twice a night during MVMCP – and it even SNOWS! This is a highly coveted aspect of the event, so plan accordingly.

Is Disney World open on Christmas Day?
It sure is! Check out the Disney park calendar for updated opening and closing times for each park!
Holiday Happenings at EPCOT
Throughout the World Showcase, enjoy festive performances and storytellers sharing their country's traditions. There will also be an overlay at EPCOT's new Guardians of the Galaxy: Cosmic Rewind with holly jolly tunes! Other attractions will too get holiday makeovers, like Living with the Land and Spaceship Earth
EPCOT International Festival of the Holidays (Dates: November 25 – December 30, 2022) – Located throughout EPCOT's World Showcase, guests can get extra festive by learning (and enjoying!) how other cultures celebrate the holidays! Enjoy savory and sweet treats (cookie stroll), storytelling from special visitors, and the ever-popular Candlelight Processional.
TIP:

Often found during EPCOT's seasonal events are fun scavenger hunts

– fingers crossed that this year is no different! Previously, the park has featured Chip and Dale and Olaf-designed scavenger hunts. Participating guests can purchase maps at various shopping locations throughout EPCOT.
Candlelight Processional (Dates: November 30 – December 30, 2022) – Every night a celebrity narrator, along with a 50-piece live orchestra and choir, visits World Showcase to retell the biblical story of Christmas. Typically, this event is performed at three different times: 5:00, 6:45, and 8:00 pm. Because it is a huge fan favorite, plan to wait in line early or consider booking a dining package if you would like a primo spot. This is one of my favorite events during the holidays ay Disney World!
Fun Fact: Did you know several of the members of the Candlelight Processional choir are Cast Members?
If your family celebrates Hanukkah, be sure to visit the American pavilion. In years past, there has been a storyteller that recounts the Festival of Lights, as well as Hanukkah-themed songs performed by Dickens Carolers or The Voices of Liberty. Additionally, for the past two years, the International Festival of the Holidays has had a Jewish food booth called L'Chaim.


Holiday Happenings at Hollywood Studios
Walt Disney World will use its beloved projections on Hollywood Studios' icon, the Hollywood Tower Hotel, and turn the spooky hotel into a merry image! And keep your eye out for Santa Claus, as he will be riding down Hollywood Boulevard in his red convertible. Lastly, Olaf will get in the holiday spirit with a special cheery finale at the First Time in Forever: A Frozen Sing-Along Celebration.
If you are wanting to have a merriful meal, try Minnie's Holiday Dine at Hollywood & Vine! Characters don their Christmas outfits, seasonal tunes are played, and the restaurant features a special Yuletide menu. As always, you will want a reservation as this is a popular dining location during the holiday season.
Holiday Happenings at Animal Kingdom
Animal Kingdom brings the merriness with winter white decorations and glowing luminaries throughout the park! Guests can also see Santa Claus AND Discovery Island Drummers floating on the Discovery River. At night, The Tree of Life's Awakenings projection show gets a makeover with a shimmering holiday edition
Be sure to include the Merry Menagerie in your itinerary! This charming event features beautiful artisan puppets of arctic critters strolling throughout Discovery Island. Guests can even interact with these wintery animals. Check the My Disney Experience app, pick up a Times Guide, or ask a Cast Member for the exact times
Christmas is not the only holiday celebrated at Animal Kingdom! Check out the Diwali celebrations at Anandapur, African celebrations in Harambe, and alien decorations at Pandora.
Holiday Happenings at Disney Springs
It is a holiday party at Disney Springs during Christmastime! Festivities include live performances, DJs spinning merry tracks, toy soldiers on slits, and snowflake skaters. It even SNOWS in the evenings!
TIP: When visiting Disney Springs, expect crowd levels to soar on the weekends. To combat that, try going mid-week!
The ever-popular Disney Springs Christmas Tree Stroll is returning this year! Pick up a map and look for the incredibly themed Christmas trees throughout the different areas of Disney Springs. Once you spot one, be sure to mark it on your map with a coordinating sticker. Once completed, head to the redemption location for your free reward!
The overlays don't stop at the parks! Head to Jock Lindsey's Hangar Bar to see its transformation and indulge in the yummy holiday menu.
PS: We predict other Disney Springs restaurants will feature specialty items and decor as well!
Holidays at Disney World – Resort Style
One of our favorite (and free!) holiday traditions is to stroll the Walt Disney World Resort hotels to marvel at their impressive decorations. You'll find grand holiday trimmings, incredible Christmas trees, gingerbread creations, ornaments, bows, ribbons – you name it!
TIP: Because the resorts have a plethora of transportation options, perhaps take one you haven't before: Zip on the Skyliner to Riviera Resort? The friendship boats to Boardwalk Inn? How about the monorail to Grand Floridian?
Don't forget about Walt Disney World Swan and Dolphin! Santa claimed it as his "favorite resort" last year and they even had the world's LARGEST chocolate Santa! Along with the decor, expect to find both sweet and savory limited-time offerings at the resorts' quick service and table service restaurants.
Head off the beaten path to Fort Wilderness Campgrounds to find amazing Disney World Christmas decorations designed by GUESTS! Campers put on quite the holiday spectacle, with decorated golf carts, RVs, and campsites. Grab some yummy, hearty bites at one of the restaurants located on the campgrounds and go on a stroll to take it all in. While you are there, stop by Tri-Circle-D Ranch and visit the horse stables!
How busy is Disney World at Christmas?
Busy – but don't let the crowds deter you! It's also the most magical and merriest time to go!
Christmas Eve and Christmas Day
The holiday spirit reaches its climax at Disney World on Christmas Eve and Day! Anticipate longer park hours at all four theme parks, along with longer wait times and of course elevated crowds. In my experience though, everyone is in such a cheerful spirit that the crowds won't damper your spirits.
Because these are such popular days, it isn't uncommon for parks to reach their capacity early in the day. This could be a snag in your plans if you wanted to hop after 2 pm. When I was a Cast Member, I always directed guests to EPCOT on these days as it has the highest capacity threshold. If you have your heart set on a particular park, I suggest either arriving at rope drop OR hopping later in the evening.

Do note Magic Kingdom will be the most crowded these days.
It wouldn't be Christmas at Disney World without Santa Claus! Luckily, he will be hanging out at all four parks on Christmas Day! (That sleigh sure is magical!)
Magic Kingdom – inside the gazebo behind Ye Olde Christmas Shoppe in Liberty Square AND in the parade.
EPCOT – at the American Adventure pavilion with Mrs. Claus.
Hollywood Studios – driving down Hollywood Boulevard in a special cavalcade.
Animal Kingdom – floating the Discovery River waterways on a flotilla.
If you are not attending Mickey's Very Merry Christmas Party, visitors can often see Mickey's Once Upon a Christmastime Parade during the last week of December, including Christmas Day. In years past, the parade would perform at noon and 3:45 pm.
Keep an eye out for specialty food items at both the theme parks and resorts that will only be served on Christmas!
Remember back in our November post, we discussed that Disney films the Disney Parks Magical Christmas Day Parade during that month. Viewers can watch the parade via ABC, airing on Christmas Day. This is a yearly tradition in our household and is such a fun way to celebrate Christmas!
New Year's Eve
No doubt about it, the holidays at Disney World are crowded! The busiest time of the month, hands down is New Year's. However, this is one of my all-time favorite holidays to celebrate at Walt Disney World! Yes it is crowded and yes it is more expensive, but there is nothing like ringing in the New Year at The Most Magical Place on Earth!
Magic Kingdom, EPCOT, and Hollywood Studios will all have celebrations to countdown the New Year. Be on the lookout for special NYE menus from restaurants located at the various hotels on property. Disney Springs will also be celebratory with food carts serving drinks and small bites.
As a reminder from our December post, both Magic Kingdom and EPCOT will have firework displays on New Year's Eve. If you want to experience both fireworks shows, visit Magic Kingdom first as it displays its nighttime spectacular on both 12/30 and 12/31.
Other suggestions to consider are:
EPCOT can get a little wild with the alcoholic drinks flowing, while Magic Kingdom keeps it more PG. If you have littles and are concerned, plan to head to the latter. That being said, EPCOT on NYE is the MOST fun for "Disney Adults" or older kiddos!

Be prepared for people

everywhere

all day long!

The goal is to ring in the New Year at the park, so they won't be heading back to their hotels beforehand.
Think if your family can feasibly stay at the park far past midnight. Traffic, whether in a bus, car or monorail, will be heavily crowded, making exiting the parks kind of a headache. If your family can manage, then go for it!
Can't attend but want to still partake in ringing in the New Year Disney style? Try watching Magic Kingdom's "Fantasy in the Sky" firework display via the Disney live stream! This is a tradition in our household and it has grown to be one of our favorite parts of the holiday season.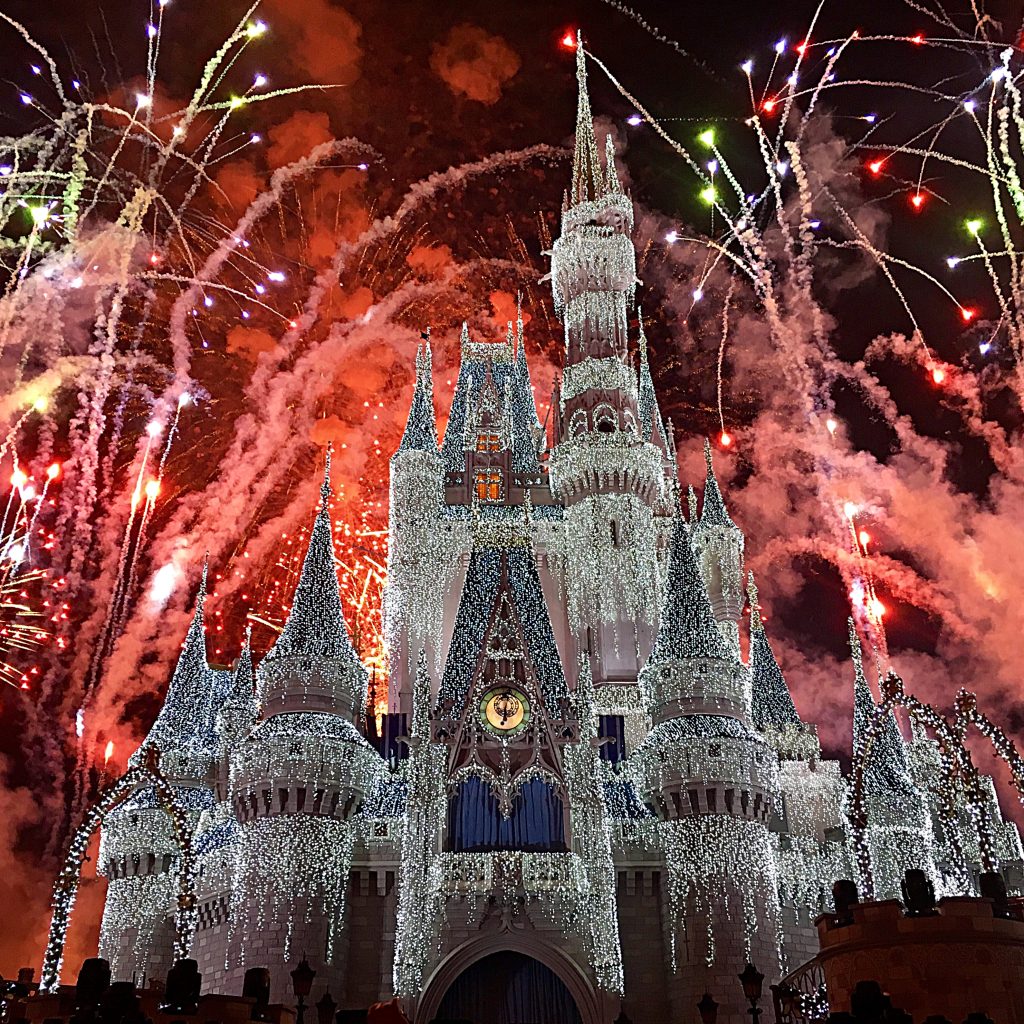 More Disney posts you may enjoy:
Did you find this post helpful?
Leave us a comment or rating below!
Tag and hashtag us on Instagram @nashvillemade #nashvillemadeatdisney
Sign up here to receive our weekly roundup in your inbox.
Join our Facebook Group where you can connect with other Disney addicts, ask questions, share photos, and get help planning trip!
Save this Post to Pinterest