Grocery shopping for one can be tricky, but this list of tips will help you save time and money while enjoying delicious, nutritious meals.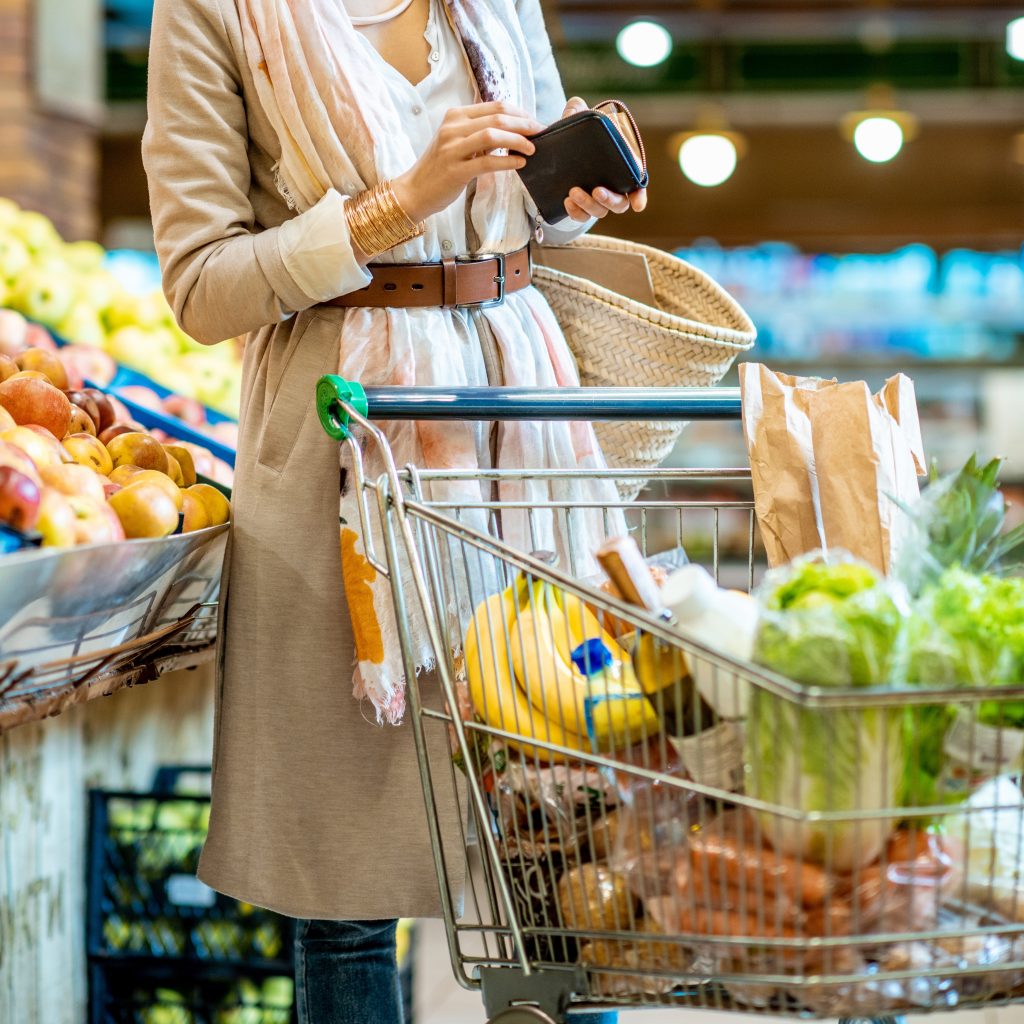 My husband travels a lot for work, so grocery shopping for one person is something I have learned a thing or two about. In theory, shopping for one person should be easier, but that's not always the case. Grocery stores cater to families, so most products come in packages large enough to feed 2 to 4 people, making things even more difficult. I hope this list of things I've learned makes your life easier!
Grocery Shopping for One
Inventory what you have.
It doesn't have to be time-consuming or complicated. Quickly scan the pantry, refrigerator, and freezer for things that you need to use before they go bad. Plan your meals for the week around those items.
Shop sales.
Shopping weekly sales is the easiest way to save money on groceries! Before you make your grocery list and meal plan for the week, look at what's on sale where you regularly shop. Combine what's on sale with what you already have to save money and prevent waste! For example, if chicken thighs are on sale, and you already have a bag of frozen broccoli, add a one-pan chicken and broccoli dish to your weekly meal plan.
Pro tip: Most grocery stores have an app where you'll have access to sale ads, digital coupons, rewards, and more. If you create an account with Publix, you can see the sales the day before it starts.
Make a loose meal plan.
I prefer making a "loose" plan, which means I have a few meals planned for the week and can make them in whatever order I want. I am a fan of leftovers, so I always make enough for at least two meals. For example, my sausage and cabbage is enough for one dinner and two light lunches, so that's two days of lunches I don't have to plan.
Buy packaged products with a plan.
It can be difficult for one person to use a whole package of something perishable like coleslaw mix. Knowing how you plan to use that product in advance will save time and prevent waste. For example, if you buy a bag of coleslaw mix, you could do a simple slaw as a side dish one night, add some to chicken salad for texture, or saute a big handful with a sausage link for a quick and easy meal.
Buy fresh produce in small quantities.
Pass on the entire bag of potatoes or lemons and buy them individually. It may cost a little more per pound, but the risk of a whole bag going bag before you can use it is high. Avocados, for example, seem to go from hard to "use me immediately" overnight, so I never buy more than what I know I can use. If buying more than one, choose one that feels ripe and one that is harder, which will give you a few extra days o use it.
Learn to love frozen produce!
Frozen foods can be your best friend when shopping and cooking for one person. Have you ever noticed how quickly fresh produce from the supermarket goes bad? Fresh produce is often picked underripe and allowed to ripen on trucks. So, by the time you buy it, it's already weeks old. If you have access to locally grown produce, it's usually harvested that morning and lasts much longer. However, not everyone has access to that, so let's talk about why frozen produce is awesome.

It's picked at peak ripeness and flash-frozen within hours. Produce is most nutritious when fully ripe, so this process preserves the vitamins, minerals, and other phytonutrients.
It goes on sale regularly, so you can stock up on your favorites at their lowest price. It lasts for months in the freezer!
Use what you need and save the rest for another meal. You don't have to worry about it spoiling before it goes bad.
There is minimal to no prep. It's ready to go, making it the perfect choice for quick meals throughout the week.
Don't sleep on frozen proteins.
Frozen fish, chicken, and meatballs are a must for throwing together easy meals! Like frozen fruits and veggies, you can use what you need and save the rest. Frozen meatballs and Bare chicken patties are two of my favorites. I regularly throw a Bare chicken patty in the air fryer and whip up a small batch of creamy cole slaw while it cooks. It's an easy and delicious 15-minute meal for one!

The same applies to frozen pasta like tortellini, dumplings, etc…
Head to the meat counter.
There are two ways to look at this. You could buy a whole pound of chicken thighs on sale and freeze them into individual portions, or head to the meat counter and buy only what you need for the week. I do both. I eat a LOT of ground beef, so I stock up when it's on sale and freeze it into small portions. However, I don't eat a lot of chicken breast and usually buy a single breast from the meat counter.
Pro tip. Sometimes it's more affordable to buy a rotisserie chicken. You can break it down into full pieces to eat throughout the week or pick all of the meat off and freeze it into single-serving portions. It thaws very quickly and makes for quick and easy meals. My favorite things to make with rotisserie chicken are chicken salad, soup, and wraps.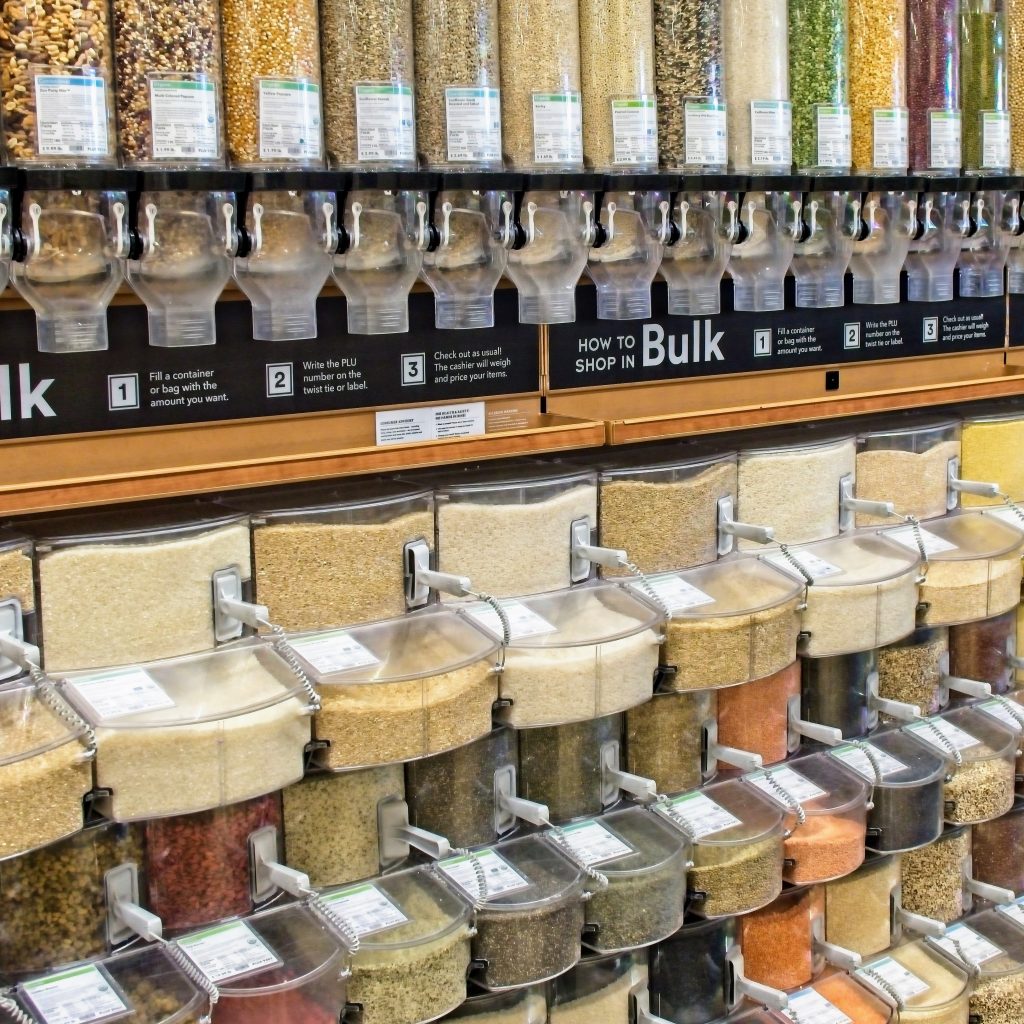 Buy in bulk.
The prices on bulk food items can give you sticker shock, but buying exactly what you need from the bulk section is often cheaper than buying a whole package. I love this tip for exotic spices. I recently needed two teaspoons of garam masala. The cheapest bottle in the spice aisle was over eight dollars, so I bought a small bag from the bulk food section and paid less than two dollars. I don't love quinoa enough to need a whole bag, but I can buy a single serving when I want it.
Pro tip. When buying in bulk, say yes to stores with a bulk food section and no to "bulk stores" like Costco and Sam's unless you're shopping for something specific.
Embrace cured meats.
Cured meats have a longer shelf life than fresh chicken, pork, or beef, so you could plan some easy meals around smoked salmon, salami, and bacon. You could do a toasted bagel with cream cheese, smoked salmon, and bagel seasoning for breakfast. For lunch, you could do a BLT wrap with bacon.
Skip the store.
Even though I love grocery shopping, I get grocery delivery a few times a month. It saves time and keeps me out of the store, which always saves some money. Depending on your delivery service, you might have to pay a small charge or delivery fee, but it's usually no more than ten percent. That may seem like a lot, but there's value in saving time. If you don't enjoy grocery shopping, there's also value in not having to do something you don't enjoy.

My two favorite services are Instacart and Amazon Fresh. With Instacart, I pay for the membership, which is $79 annually, and includes free delivery on all orders. I use the service a LOT in the winter months, so the membership more than pays for itself.
Amazon Fresh does not have surcharges, but it does have a delivery fee, which is less the more you spend. They have consistently low prices on some of my favorite products and produce that is always fresh, at least in my area.
Stock up on eggs.
When you're favorite eggs go on sale, grab a few dozen! Fresh eggs have a long shelf life, are a fantastic source of protein, and are so versatile!
Say no to containers of broth.
Stop buying quarts of broth and stock, and start buying bouillion. Someone who lives alone will have difficulty using a whole quart of broth, so I recommend buying bullion instead. My favorite is Kitchen Accomplice. It comes in a liquid form, the first ingredient is meat, and it's low in sodium. When I can't get that, my second favorite is Better than Bouillion. Look for the low-sodium varieties.
I hope this list helps you, and please share your tips and tricks!